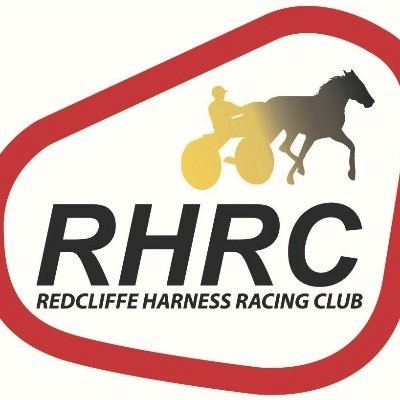 By Duane Ranger (Courtesy of Redcliffe Paceway)
Multiple Group-winning reinsman, Peter Greig, is still is one of Queensland's best horsemen after more than half a century's commitment to the sport.
The 68-year-old proved his training prowess with a personal milestone at Redcliffe Paceway last Monday.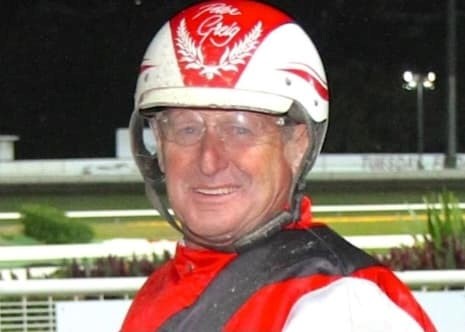 It was the first time he had trained a treble at Redcliffe Paceway. The Greig trained Ima Beach Babe (Peter McMullen), La Pistola (Nathan Dawson), and Pago Pago (Nathan Dawson) won races two, three, and six respectively.
Their opening prices of $3.10, $2.60, and $2.10 proved how highly the betting public regards Greig's red, black and white silks.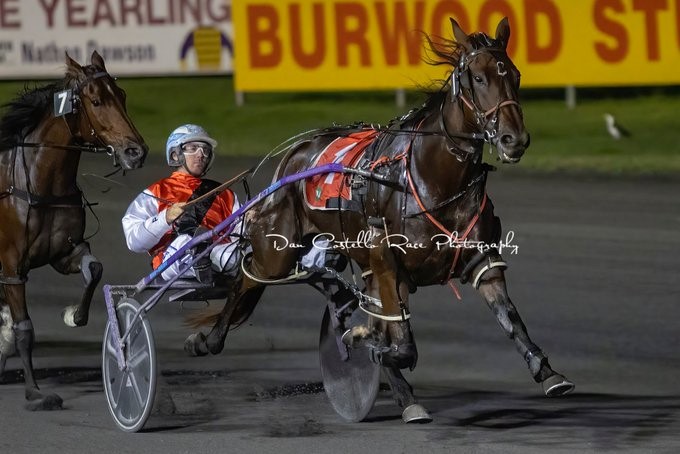 But those victories were no flukes. Greig's partner of 10 years, Patrice, said Peter prided himself on the time and vision he spent on placing his horses.
"I've trained four winners at Marburg, but I think that's the first time I've got three at Redcliffe. You have to think of the draws and the type of opposition you will meet before nominating horses.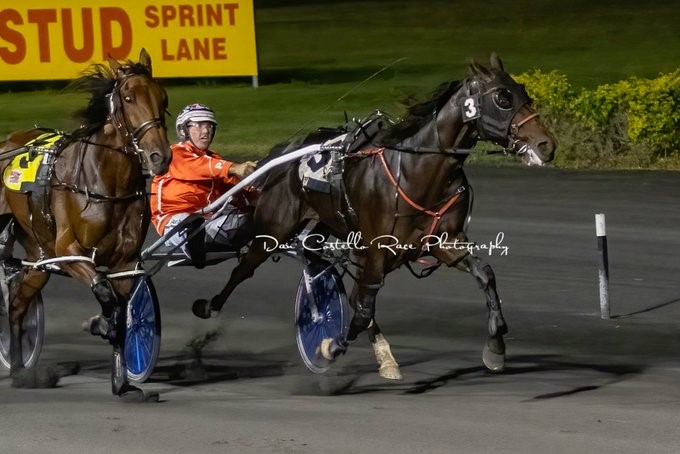 "Our horses are no stars so you have to place them right. Because they are battlers, I spend quite a bit of time each week studying the races on offer then trying to do the best by each of our horses," Greig said.
Greig and Madden work 34 standardbreds at Peak Crossing, a town of 965, situated 20km south of Ipswich. They located there from Stockleigh in March 2021.
"We love it here. The change of scenery has been great after many years at Stockleigh. The horses seem to like it too.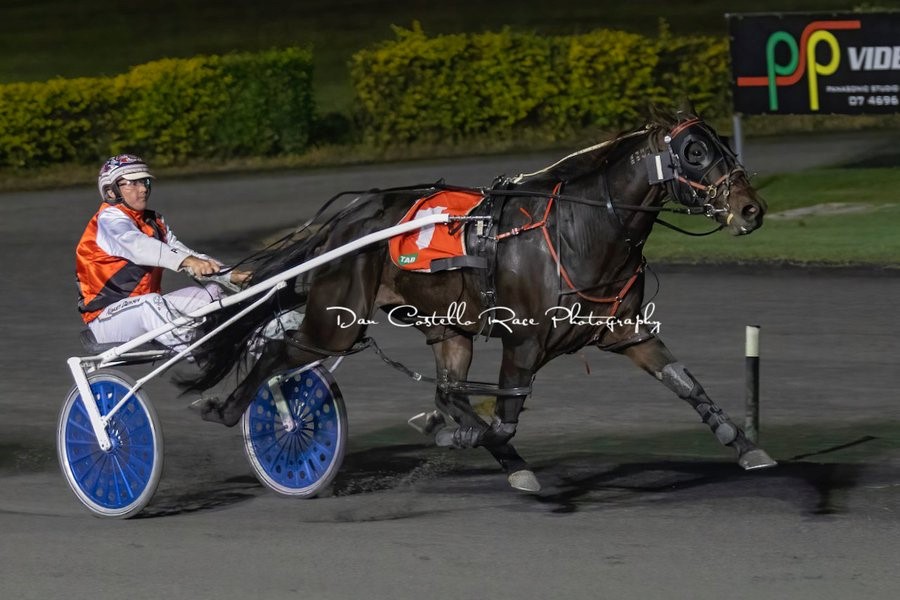 "Like I said we have no stars. I'd say our best horse now is O B Legal, who has won four of his 17 starts and recorded a 1:55.9 mile. He's spelling after last racing in December. Of the rest I'd say 'Mikey', an Always B Miki – Forgiven (by Impish Devil) 2-year-old filly named Miki Magic.is also promising," Greig said.
Madden then reminded readers who the best horse Greig had trained.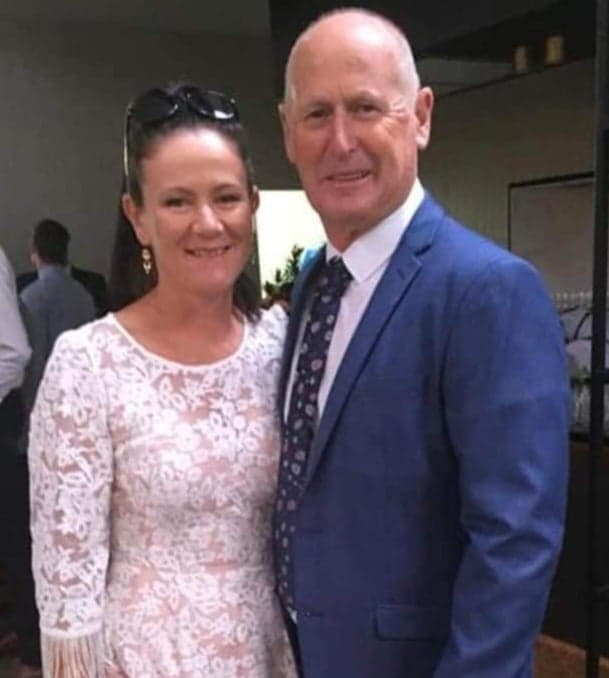 "That would be our former Aged- Horse-of-the- Year, Bodhi Tree. No pacer won in Australia more than the 15 races in a season than what Bodhi Tree achieved in 2017-2018. To set that national mark after being off the scene for more than three years was amazing.
"When he was five, he suffered a bad pelvic injury which kept him away from racing from April 2014 until he won his first race back at Redcliffe in August 2017.
"In the 2017-2018 season he went from an R1 to a Sunshine Sprint and Blacks A Fake Grand Circuit pacer. He also won Aged Horse-of-the-Year that season. To do that after the injuries and time-out was simply amazing," Madden said.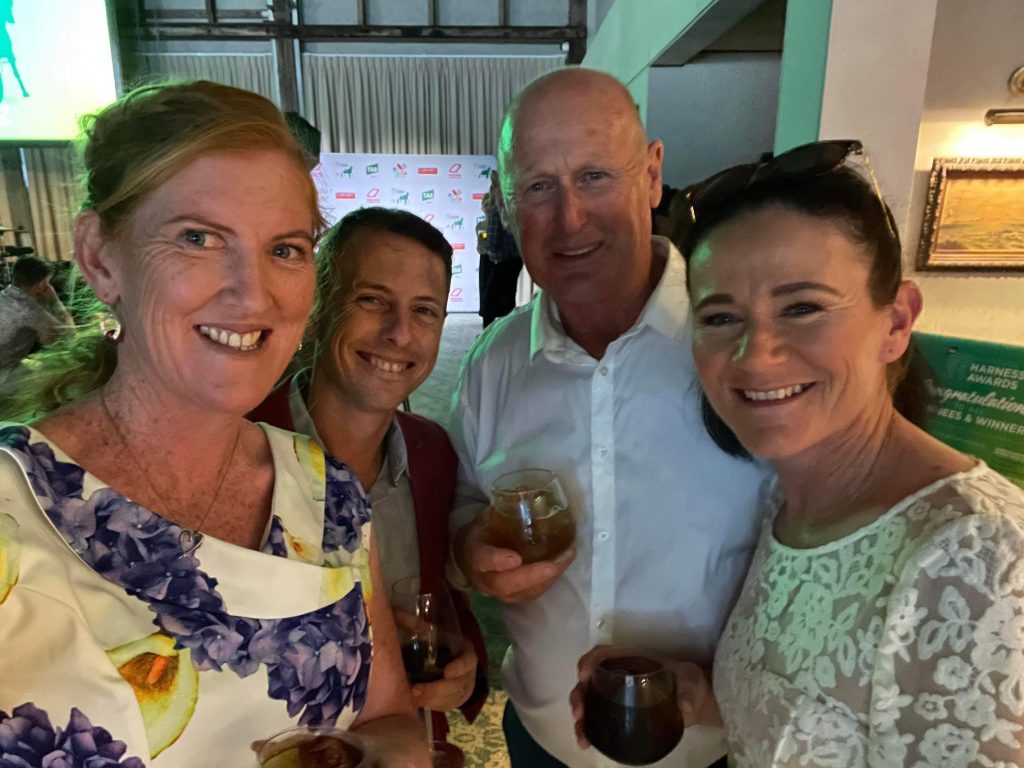 Bodhi Tree won 26 times and placed on 25 occasions for $192,854. Twenty three of those wins came and Albion Park and three at Redcliffe.
Greig, who has been training for more than 30 years, also drove an industrial garbage truck for 13 years.
He has trained 1,121 winners since the 1982-83 season. He's also placed 1,899 times and banked $5.1m in purses. Twenty four of those wins have come this season, leaving him fifth in the Queensland Training Premiership.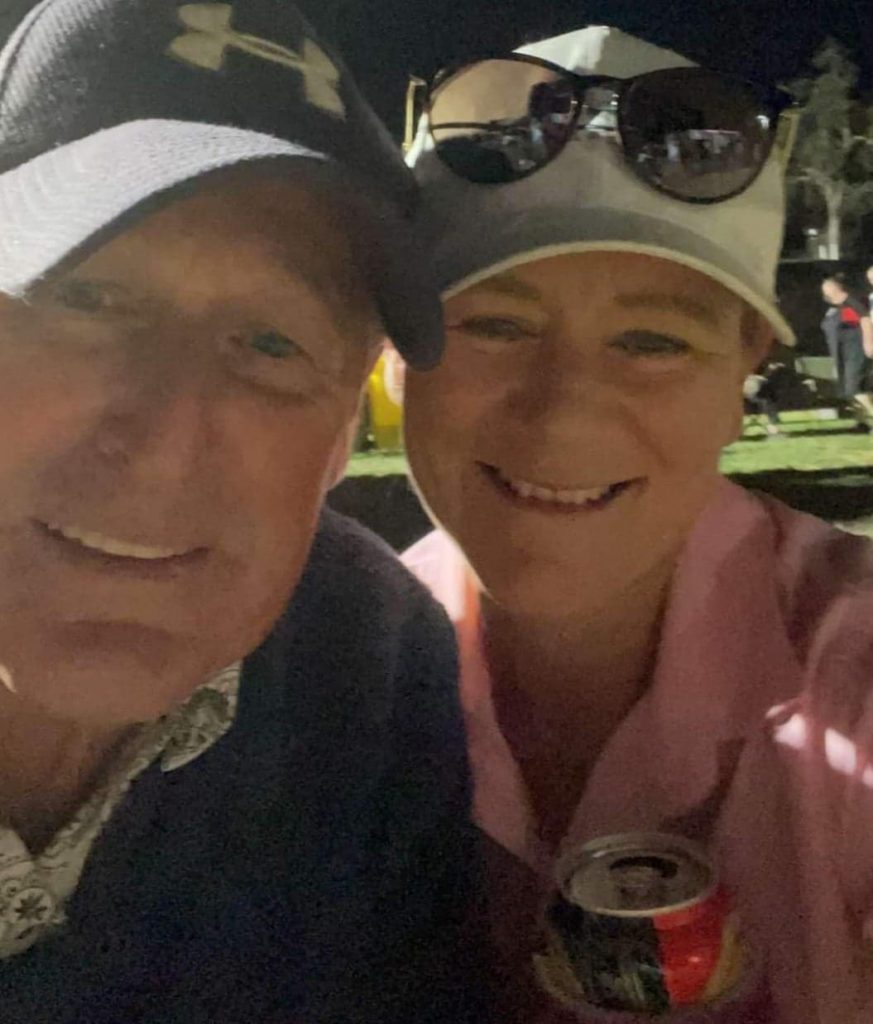 Greig has never won a training premiership, but has won several driving premierships, some at tracks that not long exist.
Since the 1982-83 season Greig has reined 2,404 winners and placed 4,033 times for $10.046,518 in stakes. He's driven multiple Group winners, including four Group Twos, three Group threes, and two Listed events.
His only Group One success in the sulky came behind the Shawn Grimsey trained Wicked Style in the $100,000 RQIS 3yo Colts and Geldings Final at Albion Park in 2012.
Greig has only driven four winners this season, preferring to let the top drivers like Nathan Dawson and Peter McMullen do the steering.
"Those boys had the reputation I had once when Alan Donohue and I were the leading drivers here. I'm a lot older now and prefer to leave it to them. I'm also 20kg heavier than what I used to be back then. They drive a bit differently to us older boys too.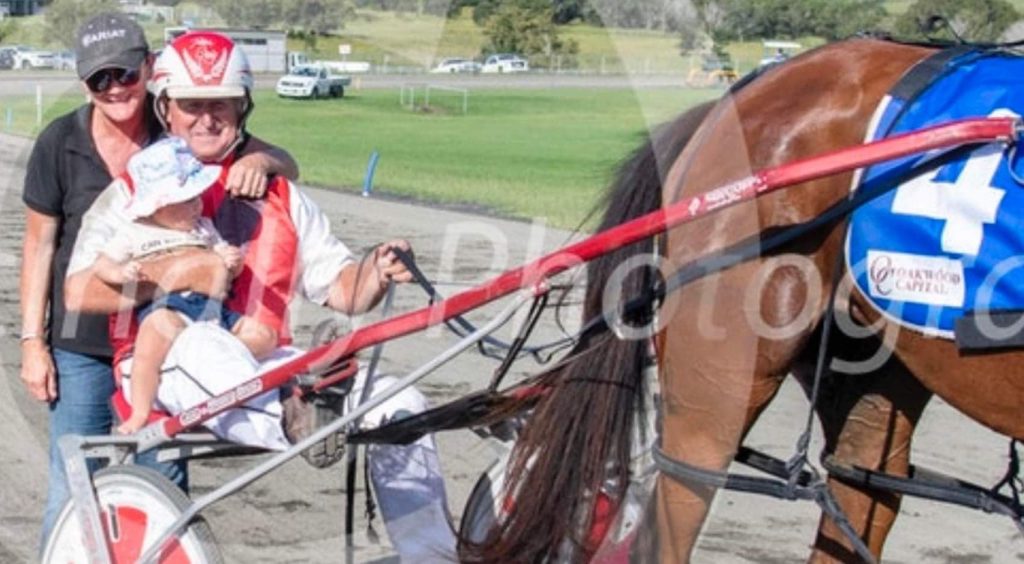 "When I was the leading driver, I knew all the other horses and tactics came into it a bit more. Today horses run flat out for the top drivers. They hold their heads and put them on the bit. It's a different era now for driving," Greig said.
Greig was born and educated in Victoria and came to Queensland when he was 15.
"Patrice and I have always been involved in harness racing from way back. I first got involved more than 50 years ago when I was 15. I've had my driver's licence for 50 years, but the records only go back to the early 1980s.
"We (Patrice) love harness racing industry. We enjoy racing at Redcliffe and Marburg and the really like people involved. Like I said earlier we have both been in the game for what seems 'forever'," Greig said.
"I've always liked racing at Redcliffe. They are a progressive club and like Marburg they do an exceptional job with mainly volunteers.
"Redcliffe attracts a certain type of horse and the track is unique to anywhere else. I enjoy racing my horses there," Greig said.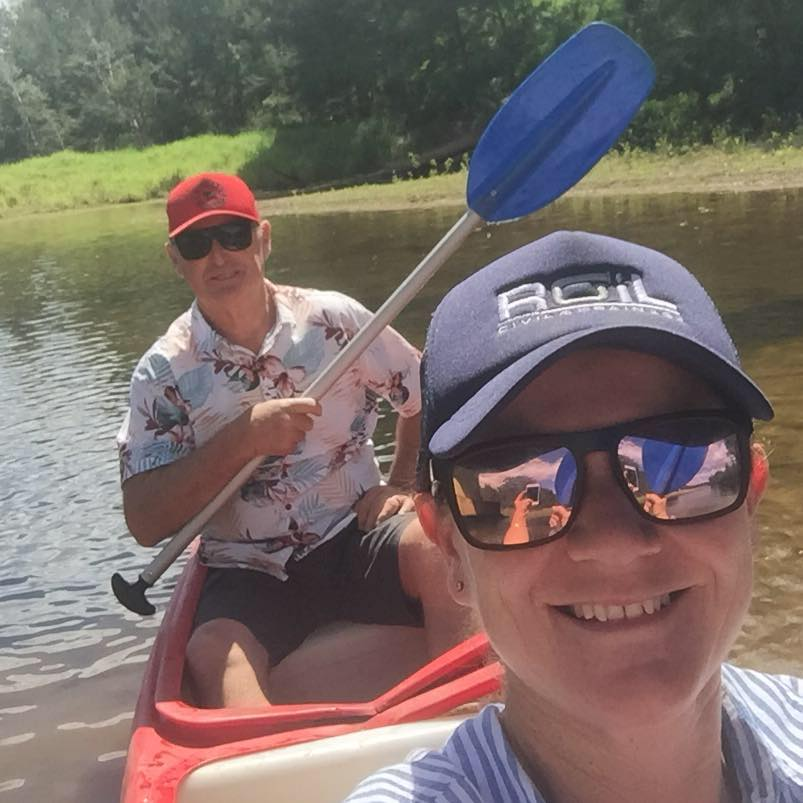 However, Greig insisted his career would never have blossomed had it not been for the "rock" of his family.
"Patrice is the unsung hero. She does so much behind the scenes and I'm forever grateful. She is a wonder horsewoman and an even better person," Greig said.
Some of Greig's top horses over the years have been: One Eyed Terror 45 wins and $229,226; Horace Foxley 26 wins and $200,600; How Will I Know 18 wins and $195,159; Bodhi Tree 26 wins and $192,394; Im Norma Jean 17 wins and $172,837; Corey William 22 wins and $145,803; Just Rokin 22 wins and $132,434; Blazing Terror 22 wins and $127,225; Woodlea Glenn 16 wins and $123,059; and Parisian Rockstar 17 wins and $119,101.
Footnote: Greig trained another two winners at Marburg yesterday (Sunday) thanks to Royal Princess (Race 5) and Ima Beach Babe (Race 8). Both were driven by Peter McMullen.
The night Greig trained three winners at Redcliffe (Last Monday) Greig also trained the quinella in race three when La Pistola defeated stablemate Groovy Miss Annie in race three by a neck. Greig was in the bike behind the runner-up.