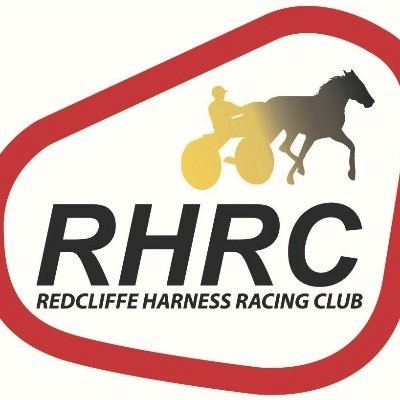 By Duane Ranger (Courtesy of Redcliffe Paceway)
Family means everything to Dale Larpent and Karly Mason – even more than the major milestone the engaged couple achieved at Redcliffe Paceway eight days ago.
"Last week, getting my first training winner with Sonny Orlando, and Dale in the bike, was pretty cool, but getting another winner last night (Saturday), with all of our babies here, was even better!
"These little humans are everything to Dale and I. Everything we do is for them in the hope to give them the best experiences in life possible."
"It may seem insignificant to most, but to us, this is so special and so rewarding. We are working hard for everything we have," Mason said.
"And we've got Mum to thank for it. Mum gave us the opportunity to train him," the Wamuran horsewoman added.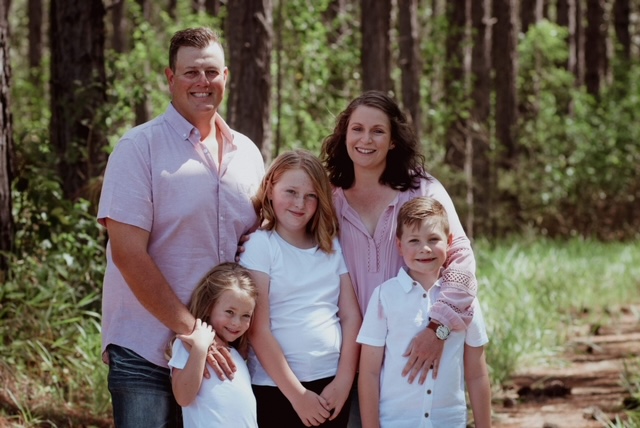 Mum is Julie Mason, who co-owns Sonny Orlando with Karly.
Sonny Orlando has now won 16 of his 156 starts and placed 27 times for just on $84,000 in stakes. The Masons have owned him since 2017.
"I've been trying to convince Dale to get back in the sulky since I met him, and although he's a busy electrician and Dad, we both enjoy getting the time to work Sonny."
"I'm on maternity leave at the moment. Dale leaves for work when it's dark and works our only horse as the sun is going down."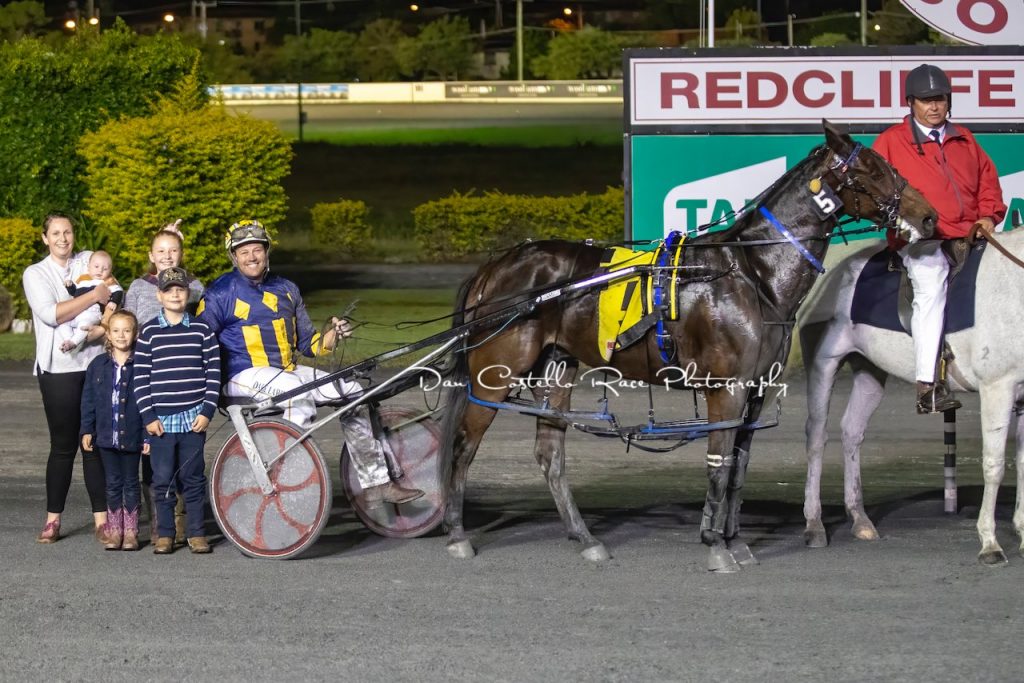 "It's a busy life, but we are very happy. We both hail from harness racing families and to be able to do this as a family is wonderful, and something we both cherish very much. Our parents and grandparents are all involved.
"We are living the dream as a family and Sonny is making our journey so enjoyable," Mason said.
Larpent and Mason, who got engaged in December 2021. had their first child together when Reid was born on January 5. He's a little brother to Dale's three children – Hannah (10), Henry (8), and Bronte (5).
"I really enjoyed our first win together last week, but tonight was even more special. To drive in front of all my kids and my trainer-fiancée was something special – yes even more heartfelt than the week before," Larpent said.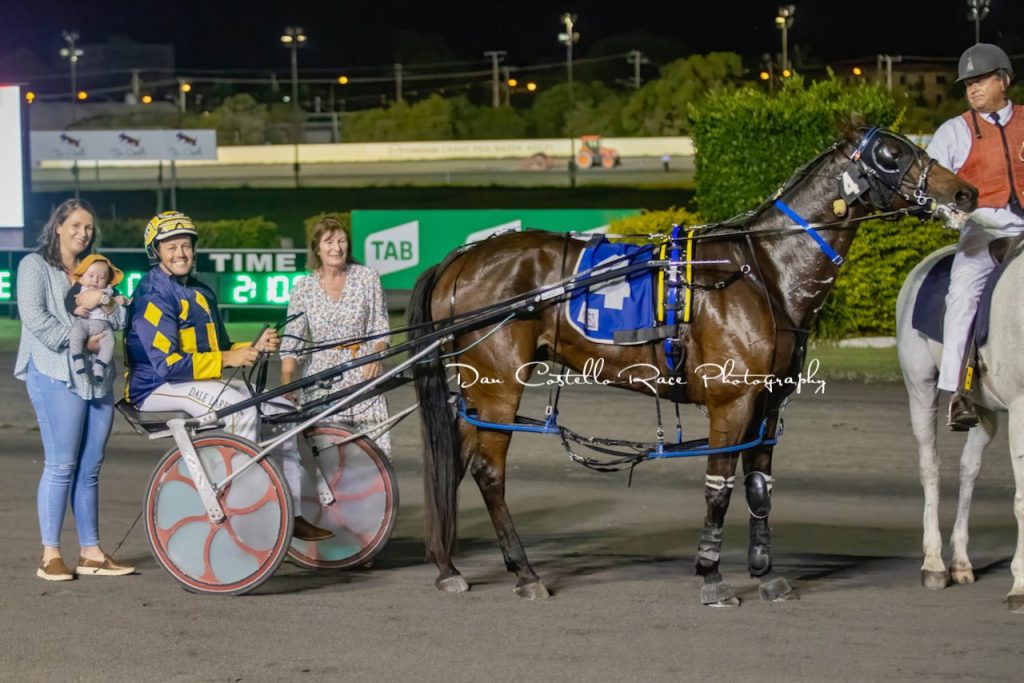 After a demolition job by 32.1 metres with a 1:58 mile rate at 'The Triangle' seven days earlier, Sonny Orlando crushed them last night by 13.6 metres with a 1:59.3 mile rate.
The 9-year-old Lis Mara gelding was favourite both starts.
It was a lovely drive from 38-year-old at Redcliffe last night (Saturday). Larpent got him into the one-one from his awkward five draw, and that's where he remained before pouncing three-wide down the back straight the last time. From that point it was game over.
"The horse has a new lease of life and has found how to be a racehorse again after suffering a few setbacks with minor injuries. He's hitting his peak now," said Larpent, who trains him with Mason on his 400m track at Wamuran.
Larpent, who had left the harness industry to be an electrician in Charters Towers, said he was lured back into the sport by his fiancée after they met at the Elkins' family New Year's Party in 2019.
"The sport was always is deep in my blood. It never leaves you. I'm a fourth generation, horseman, so I was always going to get back into harness racing at some stage.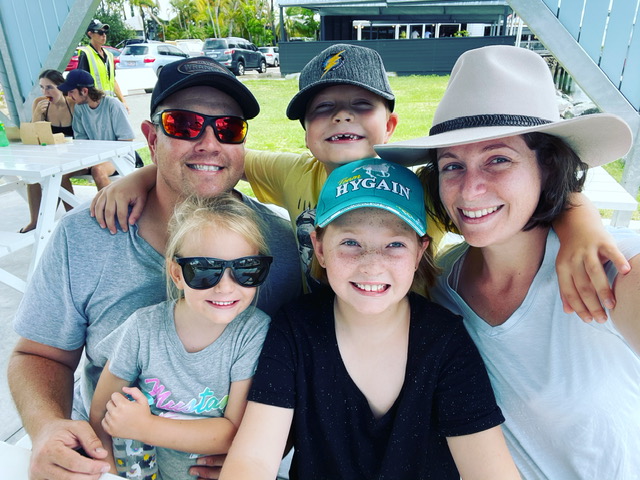 "I'm just pleased I met Karly because I got back into the industry and am now driving sooner than I probably would have. Even though I'm really busy, I'm really enjoying being back into the sulky again. I love that winning feeling," he said.
Larpent drove in his first race in 2004-2005. That was the season he recorded his only other race-day winner.
"I remember it well. It was Cool Satin at Rocklea on January 8, 2005. I was 22 at the time," Larpent said.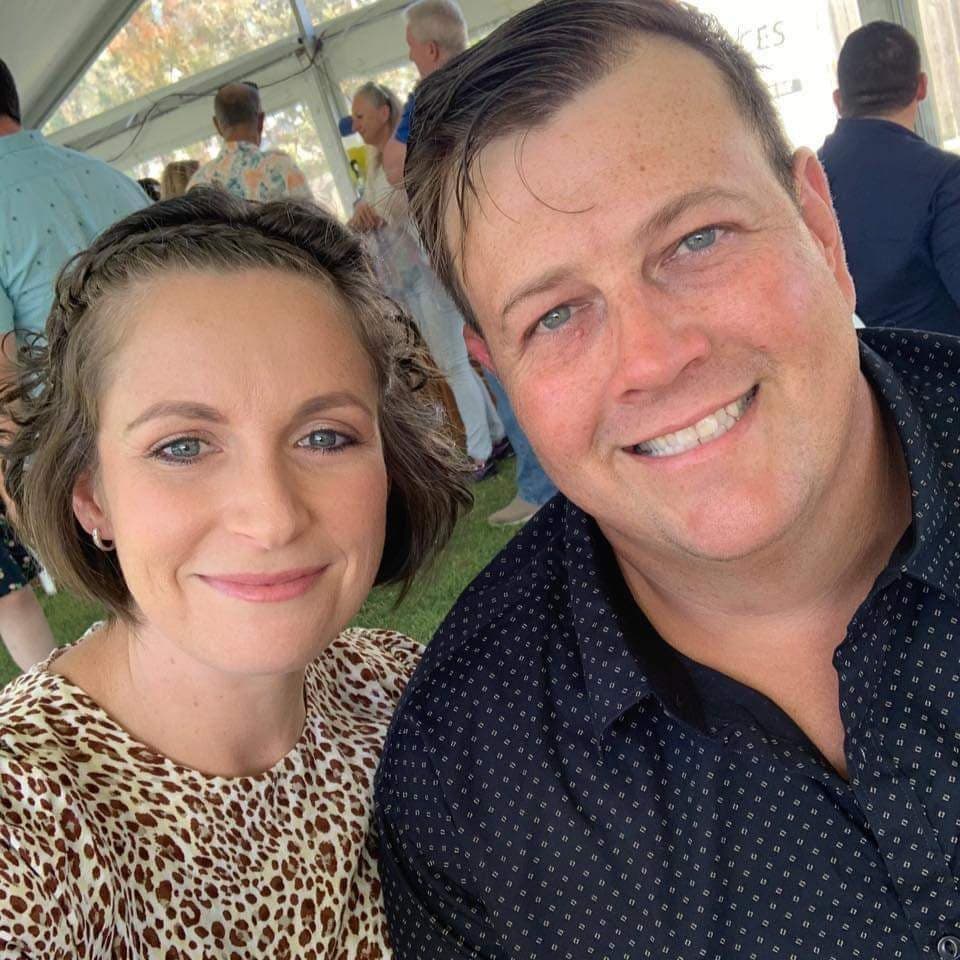 Larpent has driven sparingly in the last decade-and-a-half opting to put his trade first. He never drove from 2007 to 2015, and in that last season (2015) of holding a driving licence, he only had sat in the sulky three times. He's now had four drives since March 20.
All-up Larpent has recorded three winners now (two in succession) and six placings from 57 career drives.
"We are all so proud of Dale. Once you have got it you never lose it. I feel he had no choice but to make a comeback though, because I was always at him to get back in the cart," Mason joked.
Mason, who is the manager at Garrards Horse And Hound at Albion Park, got her trainer's licence last season. This year she has broken maiden ranks, and has now trained two winners and three placings from 10 starters this season.
"We are incredibly lucky to be able to do what we do, and have such a wonderful supportive family behind us. Without them helping us along the way, this wouldn't be possible. This last week will be sure to be something we remember for a long-time to come," Mason said.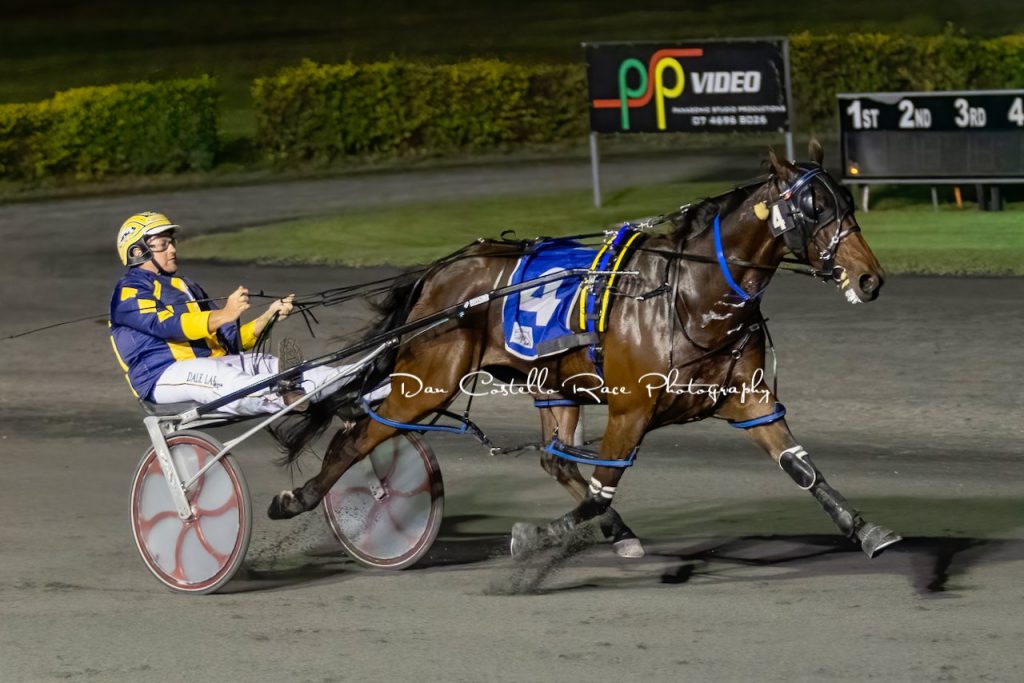 The couple said Sonny Orland, who was bred by Les Whiteside in Christchurch (NZ), was likely to line up again the week after next.
For the record: The couple are yet to confirm a wedding date.
"Finding the time to organise wedding plans with a busy family has been challenging," Mason said.
Footnote: Mason's colours are navy and yellow Stripes, navy yoke and sleeves, and yellow diamonds. They are a combination and slight variation of her parents and grandparents racing colours.