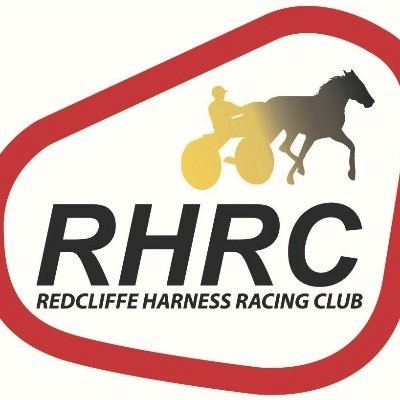 By Duane Ranger (courtesy of Redcliffe Paceway)
Gold Coast breeder, Barry Grimsey, placed in the 2017 edition of the Group Two 3yo Garrards Redcliffe Yearling Sales Series with Western Jewels.
Now five years later, Grimsey wants to win the coveted Group Two event this Friday night with Western Jewels' little half-brother, Teddy Disco.
"Three Jewels has been a wonderful mare – the best I've bred from. I always buy back her foals at the Sales.
"'Teddy' won the Group One (2yo) Sales race this time last year, and after he went real well in his heat on the track on Wednesday. Shawn has him spot on for the race," Grimsey said.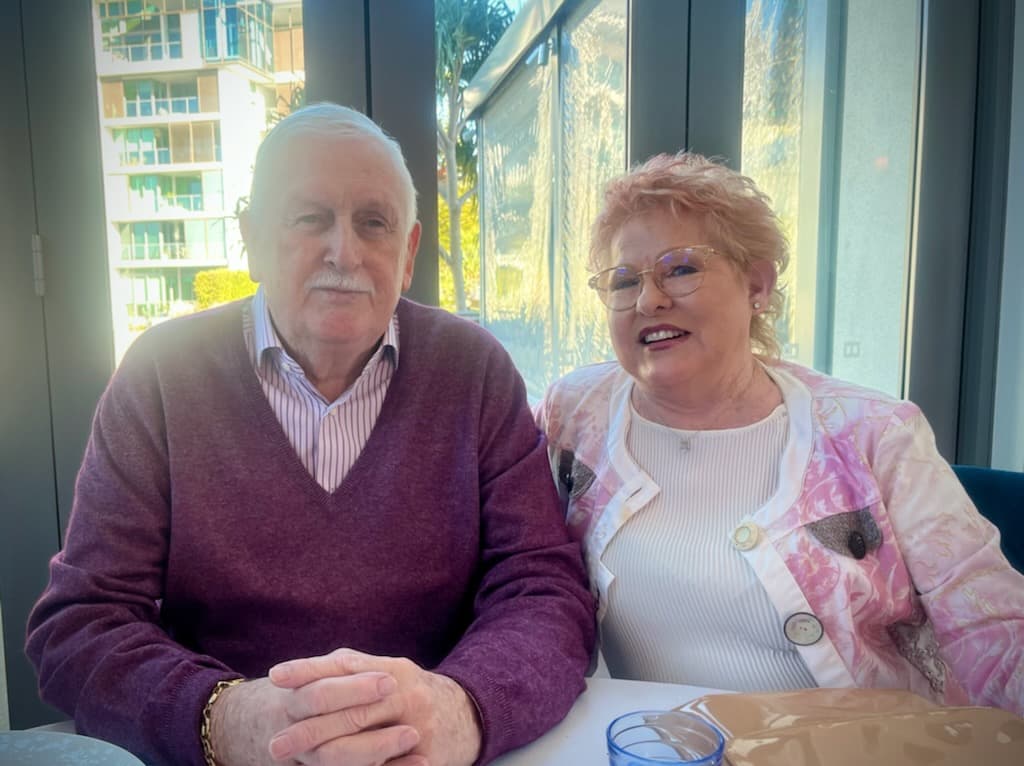 Shawn is Barry and Judith's only son, who trains Teddy Disco at Tamborine Village. Shawn, like his father also works for the family insurance business.
Teddy Disco was named by Shawn's daughter Georgia after Australian International, State-of-Origin, and Roosters League player James Tedesco.
Grimsey Junior actually won a heat of the 3yo Sales Series with Timmo Tam (Adam Sanderson) back in 2016 and then ran third in the final.
On Wednesday, Teddy Disco opened up the $1.10 favourite in the first Sales Series Heat, and never looked like letting his huge band of supporters down.
Driver Nathan Dawson led and dictated all the pace from gate one. Thereafter the race was for second.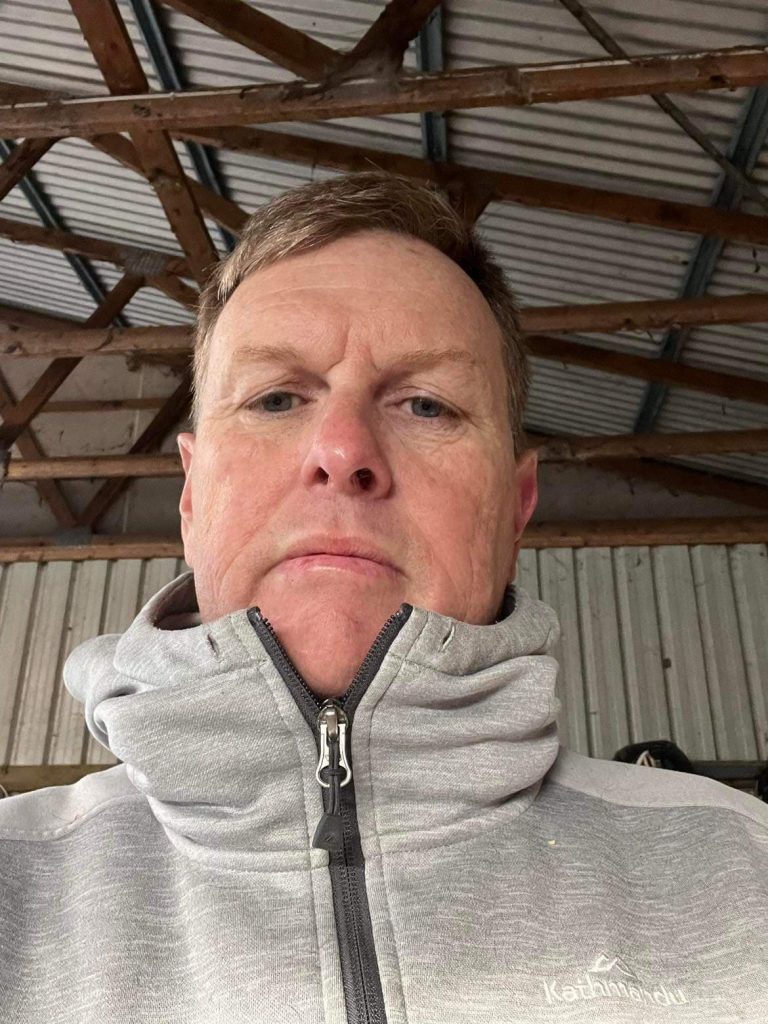 'Teddy' paced the 2040m mobile in 2:30.8 with a 1:59 mile rate. His sectionals were 30.5, 31, 28.9, and 28.3. HIs best mile-rate of 1:54.9 came when winning a Tuesday race at Albion Park on May 10 just gone.
The black Tintin In America gelding won by 11.1 metres. It was ninth win in 15 starts. He's also placed twice and banked $133,402 in stakes.
"I never thought he would make it as a 2-year-old. We had others that worked much better than him. In fact, he can be a bit lazy away from race-day.
"But in saying that he has come through Wednesday's race really well and is eating everything he sees. He's primed to go a big race again, but the other heat winner will be tough to beat as well," Grimsey (Shawn) said.
That other heat winner, the Shane Fraser trained and Angus Garrard driven Bangkok Deejay, who opened up at $1.04, was equally impressive winning heat two by 8.8 metres in 2:34.9 which equated to a 2:02.2 mile rate.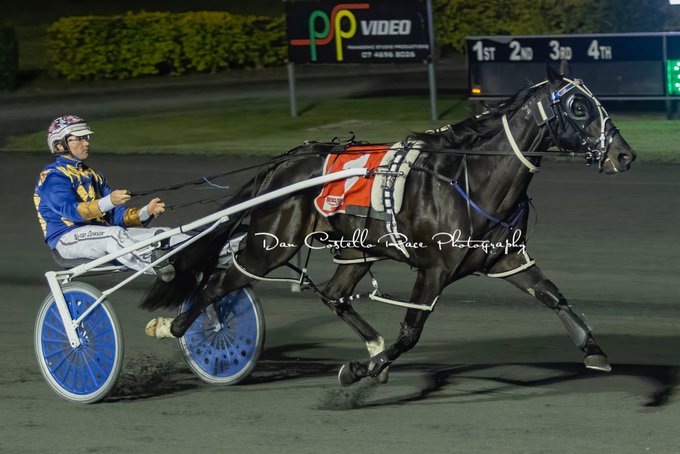 That son of A Rocknroll Dance has now won six of his 1-0 starts and $27,143.
His older half-brother, Manila Playboy (by Pet Rock) finished second in the 3yo Final last year behind Shes Miss Devine. A year earlier he won the Group One 2yo Sales Series Final.
Grimsey Senior said he'd love to win another Group race again after 'Teddy' nailed his first Group One 12 months ago.
"I've had some nice horses over the years, but this fella would have to be near to top of the pile. His mother is certainly the best broodmare that I have bred from," said Grimsey, who operates his breeding business under his company name of Littlehaven.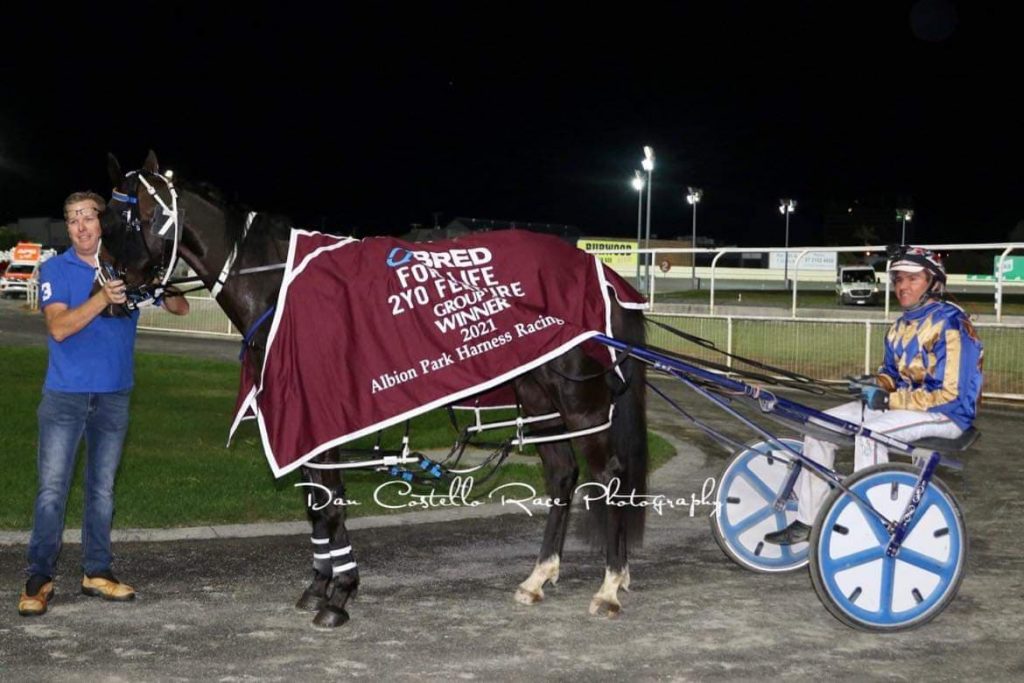 He said Three Jewels (by Lotsa Clout – Appealing) won six races between April 2009 and August 2011. I paid about won $16,000 for her at the Yearling Sales, and she left us eight foals.
"The best of them so far is Teddy Disco, but Western Jewels (2012 Always A Virgin mare) and her full sister, Always A Jewel (2013) won five and seven races respectively.
"She missed to Roll With Joe in 2020, but her last foal – a full sister to 'Teddy' – Foxy Five has won one of her six starts and placed in the other. Nathan drives her for Shawn as well," Grimsey said.
Grimsey Senior said the Redcliffe Sale was his preferred Sale, but he had bought other good horses from other Sales.
"I think Wicked Style is the best horse we have owned and Shawn has trained. We paid the minimum price of $4,000 for him and he went on to win the Group One 2012 RQIS 3yo colts and geldings Final and that year also ran second in the Queensland Derby. Peter Greig drove him that year.
"Wicked Style also won Group Two Nursery Final in 2012 and all-up he won 19 of his 33 starts and just over $220,000 in stakes. I think Shawn will agree with me that Wicked Style is still the best horse we have raced," Grimsey said.
His son agreed.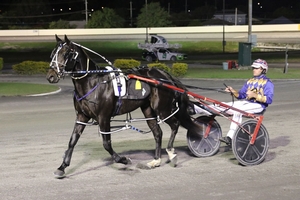 "We've won some nice races with some nice horses over the years. Albert Aralar was another nice horse too. We won the Redcliffe Derby with him in 2004," said Grimsey
"Wicked Style has the runs on the board, but 'Teddy' is still only three and has much to prove. To win a Group One and Group Two at that age would be awesome and put him well on the way to being out best," said Grimsey who works a team of 14 at Tamborine.
Grimsey has been training standardbreds since the 1994-95 season.
The 49-year-old has trained 241 winners and 443 place-getters from 1,729 starters. He has also netted $1.6 million in stakes.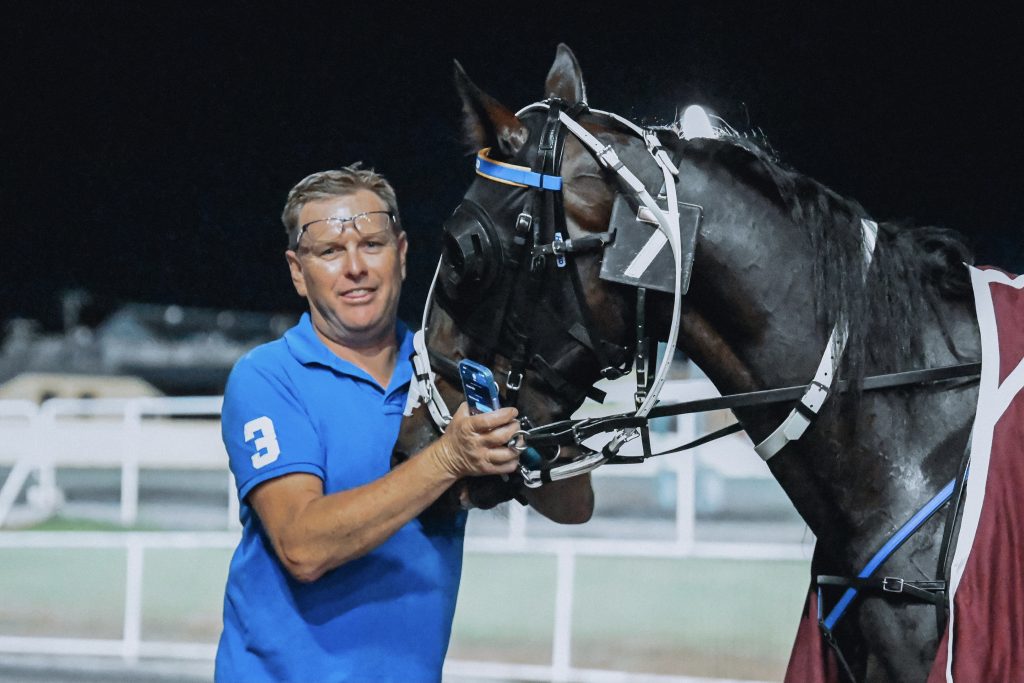 "Other nice horses we've had over the years have included Designer Styler, who won the RYSS Group Two Final Pace; So Am I who won this year's Listed Goldstrike Final at Marburg; and Georgia Grace, who won the Group Two Qbred Breeders 3yo Final in 2016," Grimsey said.
His father added that Georgia Grace, who was named after Shawn's only child, was a $34,000 purchase at the Albion Park Yearling Sale.
"Georgia also named Teddy Disco after James Tedesco, but her namesake went on to win 16 races and $143,000," Grimsey said.
Grimsey Senior, a former Gold Coast Harness Racing Club president, came to Sydney from his native England in 1961. He has ran his own insurance company for the last 40 years.
"We moved to Queensland in 1980 and ironically Shawn used to be petrified of horses when he was young.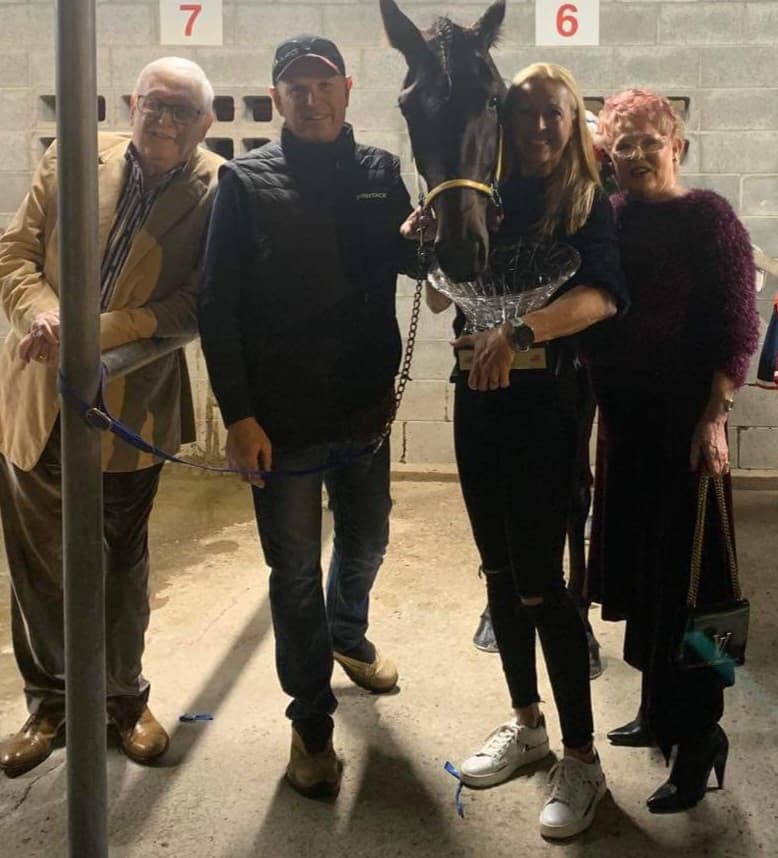 "We went to a trotting meeting one Sunday when he was young. Shawn started mucking out the boxes with Les Hopper and then went on to work for Bill Dixon before he went out on his own.
"There's no trotting in England but we are absolutely hooked on the sport here. We love racing at Redcliffe Paceway. They run a good club. We enjoy the racing there. It's been a happy track for us," Grimsey Senior said.
Grimsey Junior said his two most tightly assessed pacers in his stable were the 24-win Rubies For Tash ($224,906), and the 15-win Kenena Provlima ($118,672).
Meanwhile, the Redcliffe Harness Racing Club's 2022 Winter Carnival comprises:
Friday June 17:
The Group 2 Redcliffe Yearling Sales Series 3yo Final; the Group 3 Patron Purse; the TAB Trotters Cup, and the Showcase Final.
Saturday 25th June 2022:
The Group 1 Redcliffe Gold Cup; the Group 1 Yearling Sale Series 2yo Final; the Redcliffe Derby, and the Redcliffe Oaks.
For the record: Apart from Teddy Disco's Group One victory 12 months ago, his other major wins have come via: The Listed Paleface Adios Classic at Albion Park last July. He also won the Group Three Qbred 2yo (Mixed sex) Feature at Albion Park in November. That was six months after he won on debut at Redcliffe on May 5.

Teddy Disco and Nathan Dawson win the first 3yo Sales Series Heat by 11.1 metres. They' paced the 2040m mobile in 2:30.8 with a 1:59 mile rate. His sectionals were 30.5, 31, 28.9, and 28.3.