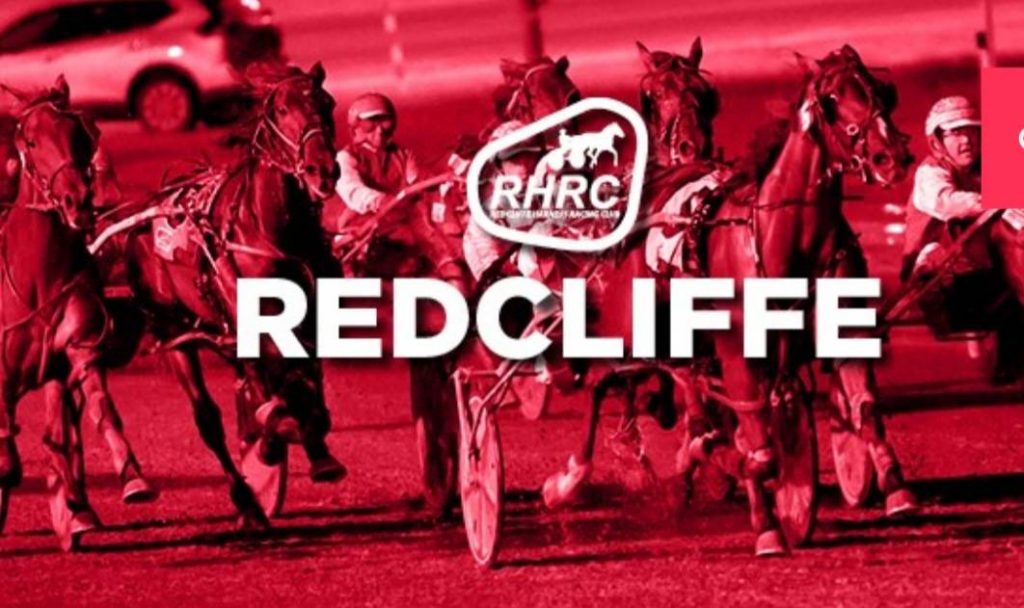 By Duane Ranger (courtesy of Redcliffe Paceway)
Redcliffe Paceway patrons can expect to see a lot more of Colin Godden's purple and orange Victorian colours whipping around 'The Triangle' from now on.
The Nanneella horseman is now a semi-retired farmer after selling his herd of 300 dairy cows this year. His Goulburn Valley farm of 32 years has now been converted into a cropping and standardbred operation.
Nanneella is situated 194 kilometres north of Melbourne.
"Michelle (wife) and I want to follow our family, and the sun. I'm 62 now, and we want to spend an equal time with our son James, who runs the farm back home, and our daughter Holly, who lives in Deception Bay. Our four grandchildren are also up here with us on holiday in Queensland, and we love being with them," Godden said.
He said his daughter's Deception Bay farm had an 830-metre track on the property, which was even greater enticement to come and work six horses for several months in the Queensland winter, and then six horses for six months back home.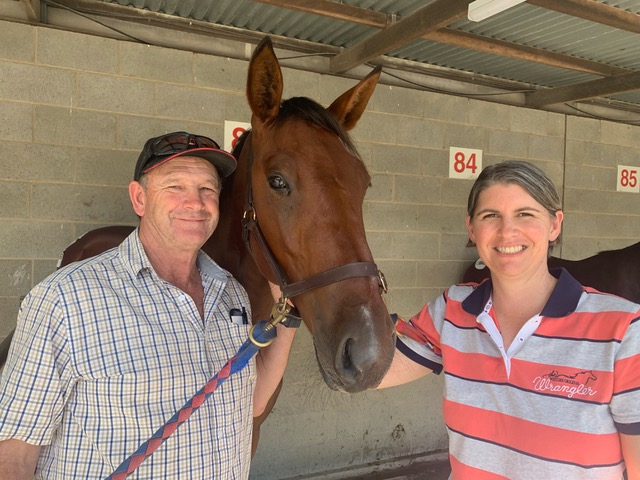 This is Godden's third year campaigning in 'The Sunshine State' after winning 10 races when he first campaigned here during Covid, and a couple last year.
"I got here on July 4 and will probably stay for three months this time. It was good to get my first winner. I'm hopeful of another successful trip away this time around," said Godden.
His only winner so far this tour, came via a 7-year-old Sportswriter mare, who may never leave Queensland.
The Godden trained and Angus Garrard-driven Sport Mental won the first race at Redcliffe Paceway on Wednesday evening (July 12) by a head.
It was the Colin and James Godden owned mare's 12th win. She's also placed 19 times and banked $99,081 since landing in Australia in May 2021 as a 5-year-old with three wins from 18 starts under her belt.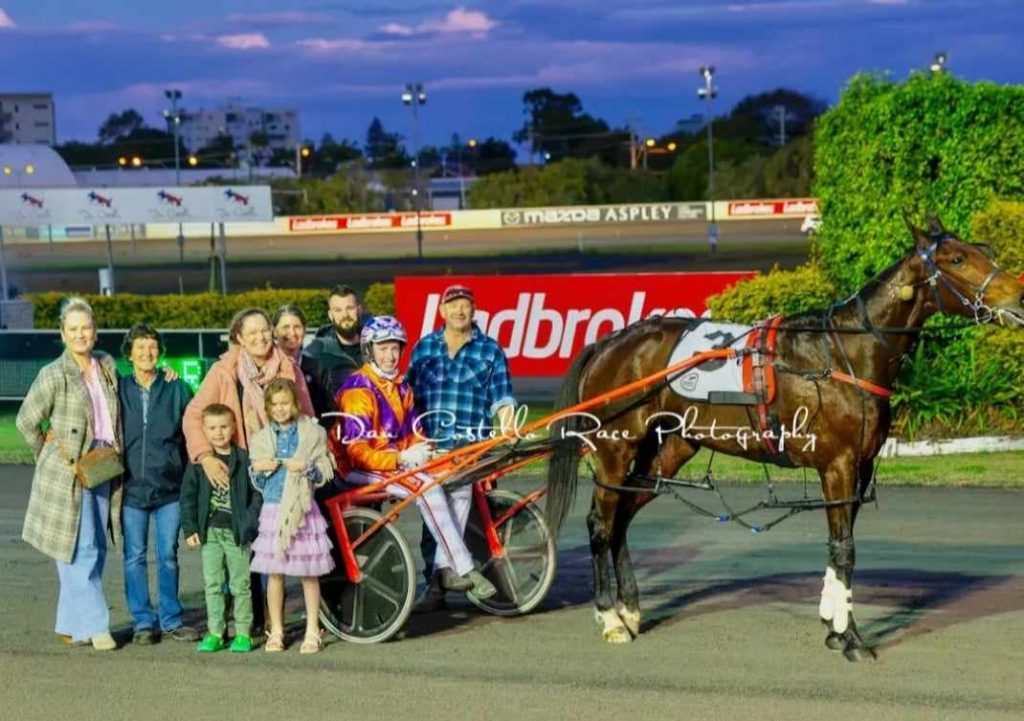 But Godden admits now that's she's had 100 starts her racing days are numbered.
"I've booked her in to be served by Captain Crunch and she's likely to be a broodmare here. It makes sense to leave her here, because she thrives in the warmer weather.
"She ties up when it's cold. Also, the Q-bred scheme is quite lucrative. It makes sense to breed a horse in Queensland with good money for your first few wins here. I paid $6,000 for her and she's been well worth it," Godden said.
There was certainly no tying up for Sport Mental on Wednesday. The 7-year-old sat parked throughout the 1,780m mobile, and dug deep to get the $1/90 favourite punters home by a head. Her mile rate was a nuggety 1:58.1.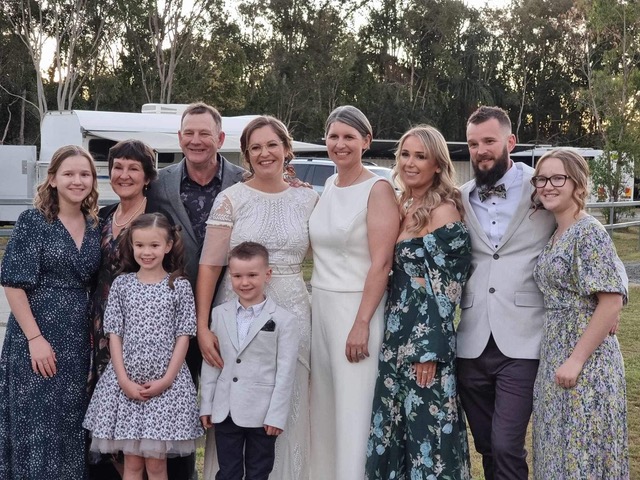 "She's my favourite horse at the minute, and it will be sad to see her not coming to the track anymore because we have built up a close bond.
"She's a gem because you always know what you get with her. It's always nice to have a genuine horse you can work with. She will make a great Mum and should produce a few winners. Well, I'm hopeful anyway," Godden said.
Since arriving here Godden has had seven Queensland starts – all at Redcliffe Paceway, with a first, two thirds, two fourths, and two sixths.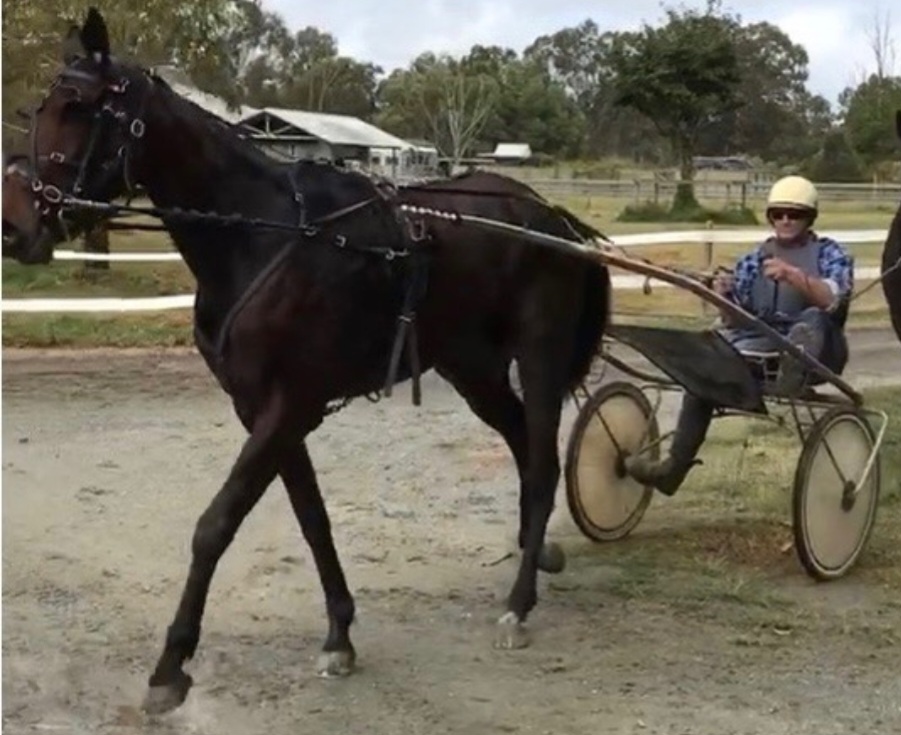 His results have so far been Art On Fire – fourth, July 2; Sport Mental – third, July 2; Mahindi – sixth, July 2; Sport Mental – first, July 12; Art On Fire fourth, July 12; Mahindi sixth, July 12; Ajay Breezy Rose – third, July 12.
Godden said he liked Redcliffe Paceway, saying it was vital to the success of Queensland harness racing.
"If anything, you don't have enough tracks up here for the large pool of horses you have, whereas back home I think there are too many tracks in Victoria.
"Redcliffe, is not only a unique track, and the patrons and members are friendly, but the track gives a horse like say Mahindi a good chance of leading and winning.
"Take Monday night (July 17) for example. She has drawn one in race one (5.14pm). If she had drawn wider she would be a $10 shot, but because she's copped the ace draw, she can lead and win.
"So yes, I like Redcliffe a lot. I've had more than a dozen wins there in the three or so years I've been coming up. Different tracks like Redcliffe are needed to break the normal. Hopefully my colours will be going around there for a few years yet," Godden said.
"I've also bought two yearlings from the Redcliffe Sales," so I am very grateful to Redcliffe and the Club," he added.
Godden has trained 119 winners from 1,080 starts since the 1982-83 season. He's also had 272 place-getters and banked $741,903 in purses. Godden has recorded four winners this season – 12 fewer than his best recorded in 2021.
Godden hasn't driven since 2016-2017, but has reined 14 winners off and on since 1980.
"I've still got my licence and can still drive, but prefer to let the young ones do my driving these days. They are out there almost every day and are better than many. I know if I fall I break."
Godden was born in Nanneella and educated at Echuca Technical School. He ended up buying a dairy farm just 10km down the road from his parents farm.
"Dad was a drover and had a 15-acre farm less than 10 minutes from where we live now. So, we always had horses and when I was milking I always had a horse or two as a hobby trainer.
"The love developed from there. Some of our better horses have been named after our farm – 'Orion Park'," Godden said.
These include the best horse Godden has trained, the 1998 gelding, Sword Of Orion. That son of Exotic Earl won 15 of his 54 starts and placed in 13 others ($52,288) between December 2000 and January 2004.
And the 2004 Jet Laag gelding, Mister Orion, who won 14 races and placed 26 times ($72,991) from February 2008 to March 2014.
"I actually think I won five drives behind Mister Orion. He gave me the most success of any horse in the bike," Godden said.
When Godden was 15 he left school and worked for trotting trainer, Dennis Wills until he was 19.
"Dennis gave me a solid grounding and I Iearned a lot from him, but in about 1980 I also learnt that there's was no decent money to be made in the game, so I went share-farming.
"The sport has been in my blood a long time, and now that I'm chasing both my family and the sun, the horses will be there wherever I go," Godden said.