By Duane Ranger (courtesy of Redcliffe Paceway)
Don't be surprised if you see Amy Cargill and Zac Chappenden in the winner's circle for the third consecutive week at Redcliffe Paceway this Wednesday.
Cargill trained her seventh career winner (all in 2021) at 'The Triangle' last Wednesday night when Calvert Hot Shot won the second race – the Garrards NR42-46 Pace.
Ten days earlier Cargill and her partner and driver, Chappenden, won with the same horse at Marburg.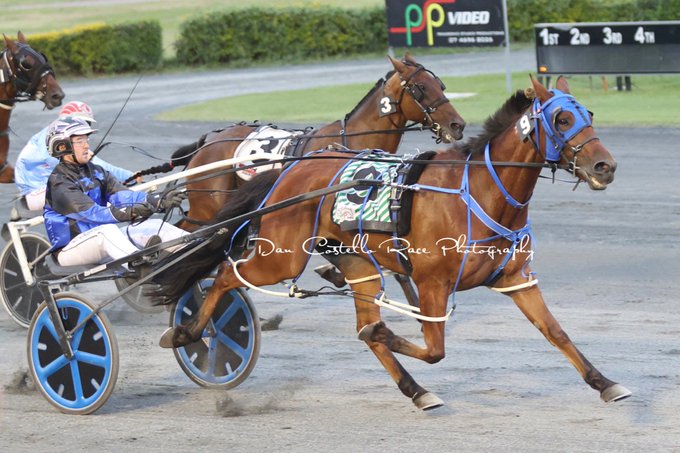 Now they want three wins in three weeks at Redcliffe Paceway this Wednesday night.
Cargill's stable star, is set to fire first up on Wednesday in race nine at 9.25pm.
"We are working seven horses at Deception Bay, and the horse with most ability in our team would be Man From Braavos.
"He's such a nice boy and shown plenty of ability with six wins from 20 starts. He's also gone 56 when winning at Redcliffe.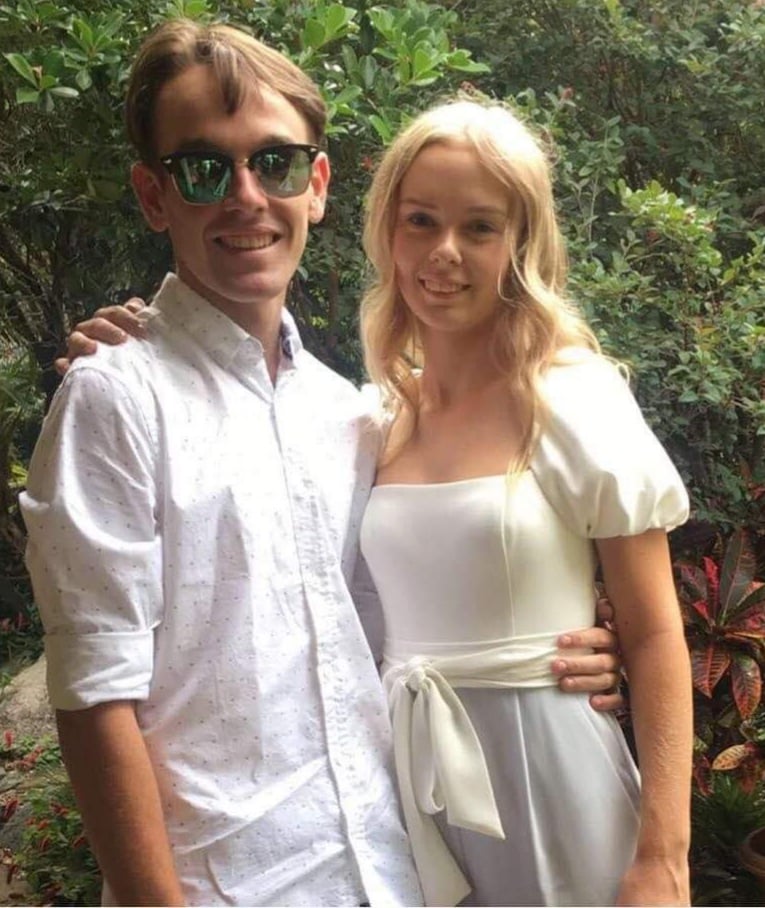 "He was previously trained by Ricky Thurlow and we are excited by his first start. He's drawn four (of six)," Cargill said.
The 19-year-old only started training last season and had 207 starters line up. She said she was so proud that Calvert Hot Shot rounded off her 2021 season in style.
"He's a real nice horse with quite a bit of speed. It's taken us a while to figure him out, but with the help of Aaron he is starting to really come through," Cargill said.
'Aaron' is Aaron Bain Racing, who co-owns the the now 9-year-old with the Summit Bloodstock Syndicate, and A. M. Ashwood.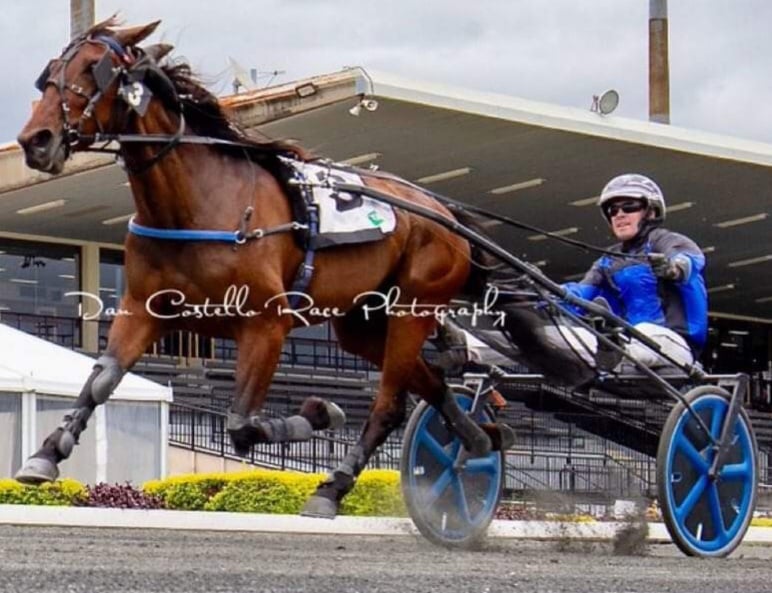 "The owners were happy with how we were training Ima Calvert Rose, which they also own, so they decided to send us up another one.
"It's a real bonus. Even though he's quite an old man now, he's in great shape and seems to be racing as good as he ever has," Cargill said.
She said she knew Calvert Hot Shot had the ability to win after his previous victory.
"We had changed some of his work so it was up to him on the day. We were a bit shocked at his win at Marburg, because he did it so easy.
"He's racing again on Thursday (race 8 – 4.57pm) and has drawn ideally at one. It just depends on the run and how much pressure we get early as to where we finish. If he performs to his best he should be thereabouts," Cargill said.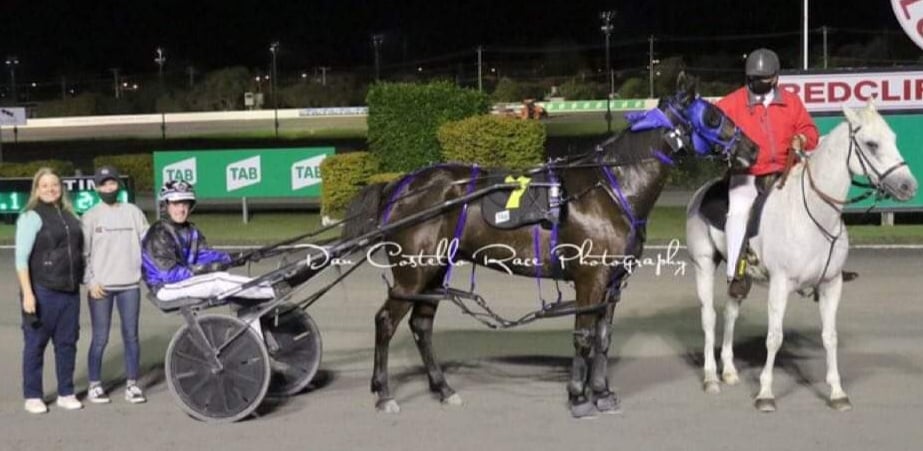 Calvert Hot Shot out-sprinted them last week thanks to a superb drive.
Chappenden had the son of Town Champion fifth early from his nine draw and they were one-out and three-back at the bell.
Then with 300m remaining Chappenden hooked the rising 10-year-old out three-wide. Their sprint in the lane was too strong, winning the 1,780m mobile in 2:11.3 (mile rate 1:58.7). His sectionals were 29.3, 31.5, 29.3, and 29.4.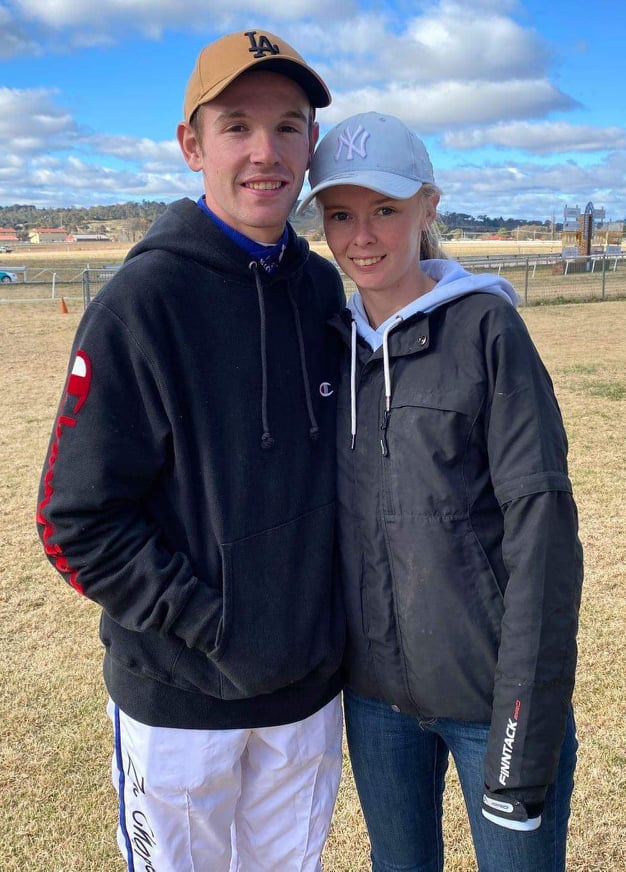 On December 19, Calvert Hot Shot and Chappenden won as favourites from barrier one in race seven at Marburg. The mile rate for that 1,850 metre mobile was 1:59.3.
The bay gelding has now provided Cargill with two victories. He also won first up for her at a Redcliffe Trial on September 15. All up he's now won 15 of his 176 starts, and placed in 28 others ($81,161) since making his debut for breeder, Ray Cross, at Redcliffe on December 23, 2015.
Ipswich-born Cargill's first training success, came on the road when, Hit The Track, won for her at Armidale on May 30.
"He won in 58 (1:58) that day, and It was only my second ever starter to the races, but I think the highlight of my brief training career so far would probably have to be when King Of Kaos won his first race on July 28 (at Redcliffe).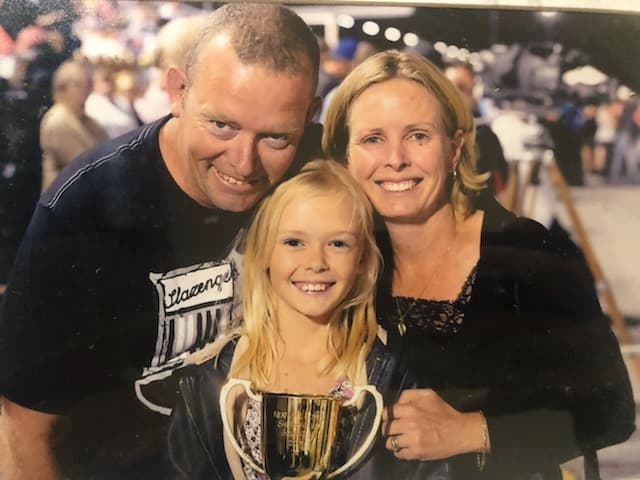 "He's the only horse we have kind of brought up from early education, and then worked as a young one.
"He's quite a problem horse with a few issues but he has loads of potential. His baby brain just has to put it all together.
Cargill said she didn't drive race-day, but really enjoyed track-work.
"I have always considered taking up driving, but haven't really ever done it. For now, I'll leave it to my boyfriend, Zac.
"He has been the biggest influence on my career. He helps me out so much. I really couldn't do it without him.
"Also, my Dad (Brett) has been a great help through the process. He's been training since he was born. Mum (Julie) isn't really into it," Cargill said.
Cargill said she moved around a lot when she was young for her father's racing.
"We must have been to Victoria and back 200 times. I went to Deception Bay State High where I graduated in 2020.
"I got into ACU where I studied commerce for about two weeks, and then left. I worked at Amcal Pharmacy in Deception Bay for around a year, which was interesting. After that job I left to train horses out at Beaudesert. Zac and I got together in the beginning of January 2021 and started training together a few months later," Cargill said.
She said she used to break retired Standardbreds into saddle.
"I used to compete on them, or sell them on as riding horses, but sadly I just don't have the time for it anymore," she said.
So, what does this talented teenager think of Redcliffe Paceway?
"Redcliffe is a good little track, but it's become increasingly hard to win a race there, as the times just keep getting faster."
Cargill's silks are royal blue, black yoke and braces, royal blue stars and sleeves, with the black 'V' and cuffs.
STOP PRESS: This from Melton Secondary College – Sport Enhancement…..
"It is always interesting to follow where our ex students end up. Amy was a member of our ADP specialist sport program, an Australian and Victorian champ squash player for her age and a SSV Blues award winner. The family moved to Qld and she has just finished Yr 12 in 2020. She is also a highly regarded equestrian rider- looks like her hobby may now turn into a career."
Footnote: A story I wrote on Amy's Dad, Brett, can be viewed here: 'The Triangle' – a big reason why Cargill settled in Queensland