By Duane Ranger
Taleah McMullen has only been driving for two- and a-bit seasons, and in that time, she has unbelievably achieved two centuries thanks to the same trainer, horse, and racetrack.
The trainer she has loved since April 23, 2002. His name is John McMullen – Taleah's father, mentor, and inspiration.
The horse is Mr Feelgood gelding, Rancho Man (pictured – number 1), who is one of young McMullen's favourite standardbreds.
The track was Marburg.
"We have had Rancho Man his whole career. I remember driving him in his education and first trials. Coincidentally he has now given me two centuries," McMullen (Taleah) said.
The talented 18-year-old explained that Rancho Man had provided her with her 100th career win at Marburg on November 8 last year.
Fast forward nine months and McMullen has now driven 100 winners in a season. The former Lowood State High School student notched up her century just on 3pm yesterday (Sunday) when Rancho Man led all the way to win the sixth event by 2.5 metres.
The 4-year-old brown gelding paced the 1,850m mobile in 2:17.3 (mile rate 1:59.4) and his sectionals were 30.9, 31.5, 29.5, and 29.8. He was the $2.10 favourite.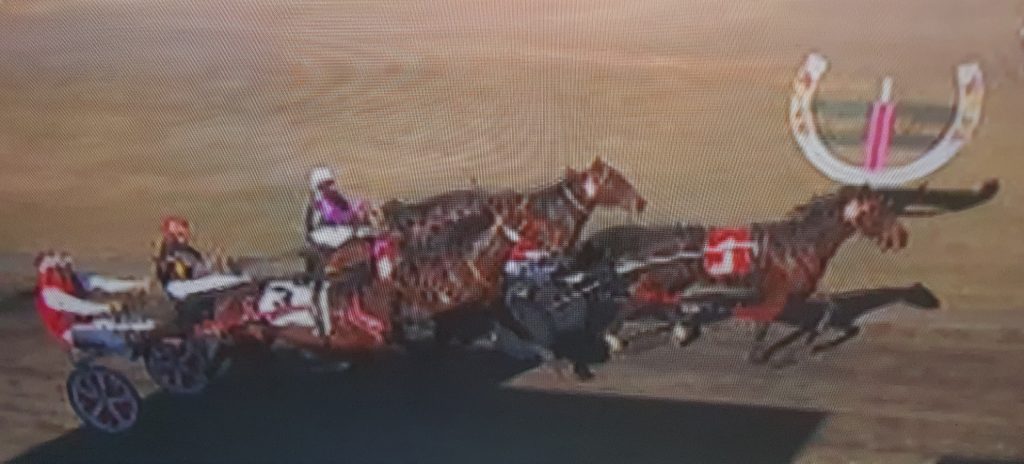 When he won for McMullen last November, he stopped the clock in 2:20.1 (mile rate 2:01.9).
Rancho Man has now won five of his 47 starts for his owner and breeder, Russell Lehmann. He has also placed 13 times and banked $27,386 in purses. Three of those wins have come this season.
"This is all very exciting. I'm very lucky to have been given the opportunities I have received since I started driving in 2018.
"This is definitely a career highlight. I can't thank Mum (Jennette) and Dad enough for all that they have done for me.
"It's probably a bigger thrill than winning my first race or my biggest race, but not necessarily a better feeling. I don't keep track of wins too much. I just keep wanting to win the next race," McMullen said.
"I also want to thank all the other trainers and owners who have put me on their horses this season," McMullen said.
McMullen now sits seventh on the Queensland Drivers' Premiership – 89 wins behind pace-setter and older brother Peter. Older sister Narissa, who is in fourth place, has also achieved a century of wins this season with 146 victories.
The youngest of the four McMullen siblings drove her first career winner behind the Ryan Veivers trained Stonebridge Royal at Redcliffe Paceway on July 6, 2017.
Asked what her other career highlights to date were, McMullen replied:
"I think it would have to be that win behind Annika Magic when she won the Listed Fleur De Lil Ladyship Stakes at Albion Park on July 13 last year. She was trained the Kerry Smith.
"She was such a wonderful well-gaited mare to drive. Probably the best horse I've driven. That was special," McMullen said.
The talented teenager also mentioned her first training success at Albion Park on August 2 last year behind Tommy Under Fire.
"We won by more than 11 metres that day. It was pretty exciting to train and drive a winner, but if it wasn't for my oldest sister, I wouldn't have got the horse. Narissa was the one that told me to buy him. You see being the youngest one does have its benefits sometimes," McMullen said.
She believed she was in an advantageous position having a big brother, two older sisters, parents, and many cousins and in-laws to call on for advice.
"I like to listen to what they all have to say. They are all good horsemen and women in their own way, and have more experience than me. Their advice seems to be working," McMullen said.
Her mother, Jennette, said her youngest child deserved all the success that came her way.
"We're very proud of her. Taleah is such a hard worker and is so dedicated and passionate about horses and harness racing, Between the four kids, they have won almost 500 races this season. Dannielle works full-time at Albion Park, but still drives plenty of winners too.
"That's quite an accomplishment so we definitely are proud parents! They're all happy doing what they love and are being rewarded for their hard work and dedication," Mum said.