By Duane Ranger.
Logan Village horsewoman, Alex Cain, has been given the chance to further her broadcasting career thanks to Kevin and Kay's continued sponsorship of media training in both Brisbane and Sydney.
Cain is one of six sponsored horsemen and women that are currently attending weekly courses at Channel 7 at Mount Coot-Tha, and then eventually three to four days at the Sky Racing studios in Sydney.
The Seymours sponsored the Young Guns initially which launched Brittany Graham's career in broadcasting, and the current half dozen are the second intake.
Cain was delighted that she could now further her broadcasting career.
"I was approached in the middle of January and we were all set to start late that month, but then Covid19 kicked in, and we had out first day back on July 6.
"I've always been interested in the media. I have media certificates from school and have worked at 98.9 FM for two to three years previously. I actually applied to do media studies at University, but then I had to care for a foal born in December and since then horses have been my life," the former Trinity College student said.
The 24-year-old is attending the course with Chloe Butler, Taleah McMullen, Matt Elkins, Zac Chappenden, and Jonah Hutchinson.
"We are all so appreciative of what Kevin and Kay have done for us. This is such an awesome opportunity for us all. I have been around horses since the day I was born.
"Dad (Errol) has trained horses his whole life and both of my grandfathers were harness racing trainers and drivers, so I am actually third generation harness racing.
"My younger brother Leonard is driving quite well at the moment, but even though I love horses so much, I've always wanted to be a journalist of some kind," Cain said.
"Thanks to Kev and Kay and I now have that opportunity," she added.
Seymour said he was proud to be sponsoring the five students again. He remembers vividly the first crop of youngsters that went through his course.
In fact, in 2017, Brittany Graham, a business management and marketing graduate, was offered casual work by Sky Racing.
"Brittany has gone on to carve herself a very nice career as a broadcaster. She is also a quality horseman, but now she has another career to fall back on.
"She is undoubtedly the success story of the Sky courses so far. She is very articulate and does a fantastic job for Sky Racing," Seymour said.
Graham then elaborated on how she became one of Australia's best racing presenters on TV.
"I was lucky enough to be chosen to attend the Sky Academy back in 2017, thanks to Mr Seymour's generosity.
"At that time, it wasn't a career path that I had considered, and if it wasn't for the gentle nudge that Kevin gave me to give it a go, I certainly wouldn't be in the fortunate position that I am in now," Graham said.
Seymour termed her a 'natural' in front of the camera.
"She flew through her training and Sky liked what they saw. She's certainly one of our best presenters now because she's a talented horsewoman as well.
"She has grown up with horses and she knows the subject very well. Kay and I are very proud of what she has achieved," Seymour said.
"Hopefully there will be another Brittany come out of this course," he added.
He said the five participants would also be taught how to deal with the media, as well as journalism and broadcast presentation.
"I think the girls enjoy having a day away from the barn and getting to put the make-up on. I want them to be good, professional ambassadors for our sport. Brittany has been a great role model," Seymour said.
"I have taken past participants to New Zealand and Kay and I are doing as much as we can to support the youngsters in our sport. We have also given away horses to help kick start their careers," Seymour said.
A story on those 'give-way' horses follows.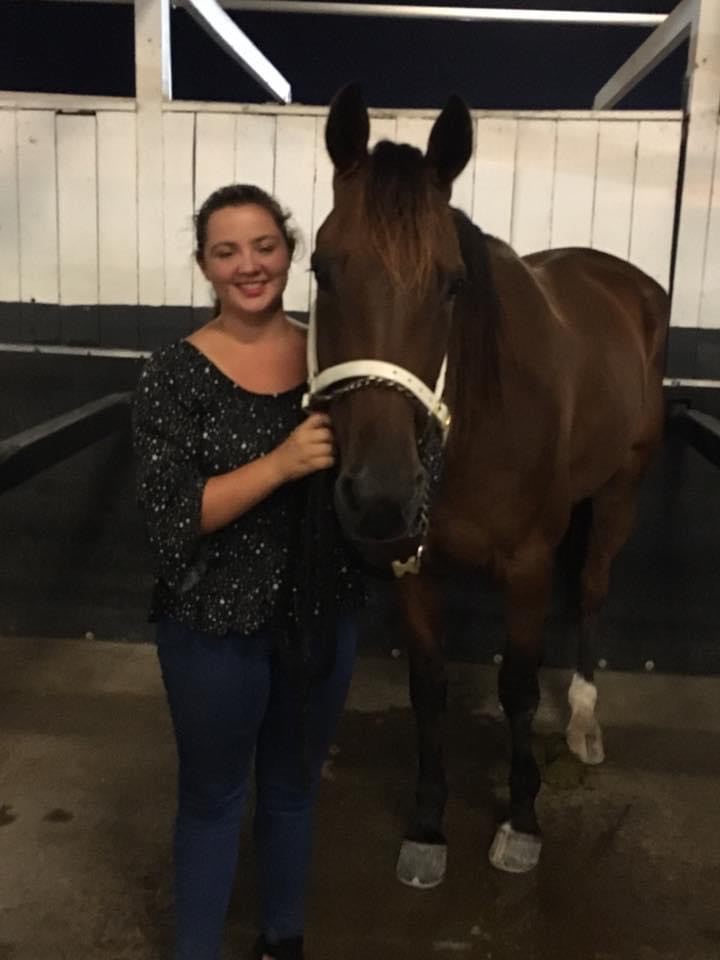 A story on those 'give-way' horses follows this week.