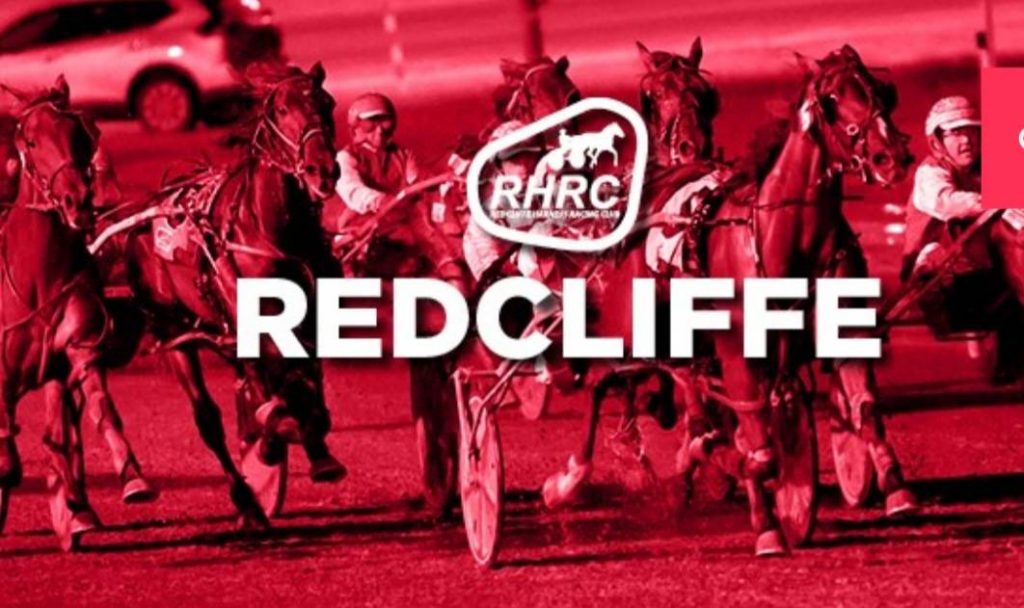 By Duane Ranger (courtesy of Redcliffe Paceway)
Nikki Chalk's career training statistics don't show just how impressive her standardbred and harness racing CV truly is.
The Marburg Mum-of-one, racked up her 30th career win when the Nathan Dawson driven, Young Conqueror, proved too good in race two at Redcliffe Paceway on Monday night (July 24) – the Ladbrokes Up-to-60 Pace.
It was the Mach Three gelding's 13th career victory since he made his winning debut at Winton (NZ) 126 starts ago on December 29, 2016. It was also Chalk's first triumph with the 9-year-old veteran since she bought him in an online Auction from Tumby Park back in late 2022.
He has now amassed $130,901, which also includes 32 placings, and a slashing 1:53 mile-rate recorded at 'The Creek' on November 20, 2021.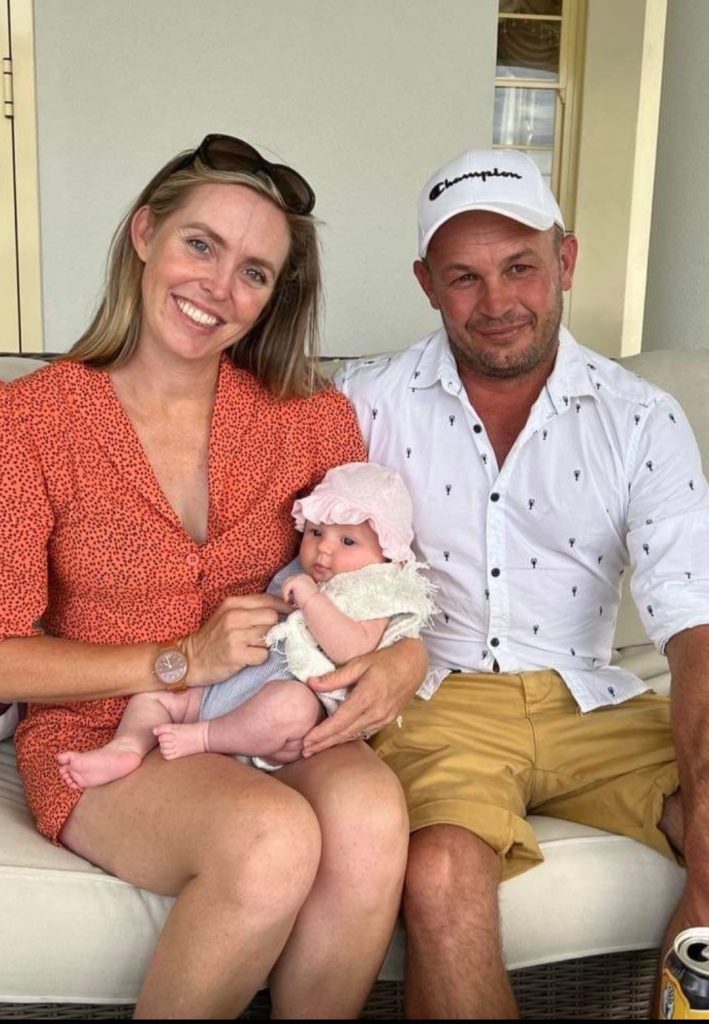 The three-metre victory, from gate five, also provided Chalk with her first win in 15 starts this season.
"He's quite a nice horse, but probably entering the twilight of his career. He's won over $130,000 and has returned a 1:53 mile so he has been very good in his day. He's just getting to the stage where he takes a fair bit of maintenance.
"It was a relief more than anything. He went really well for me his first start, I thought I wasn't going to have to wait long to win one – then I had to scratch him with a high temperature the next start and took me a while to get him right again.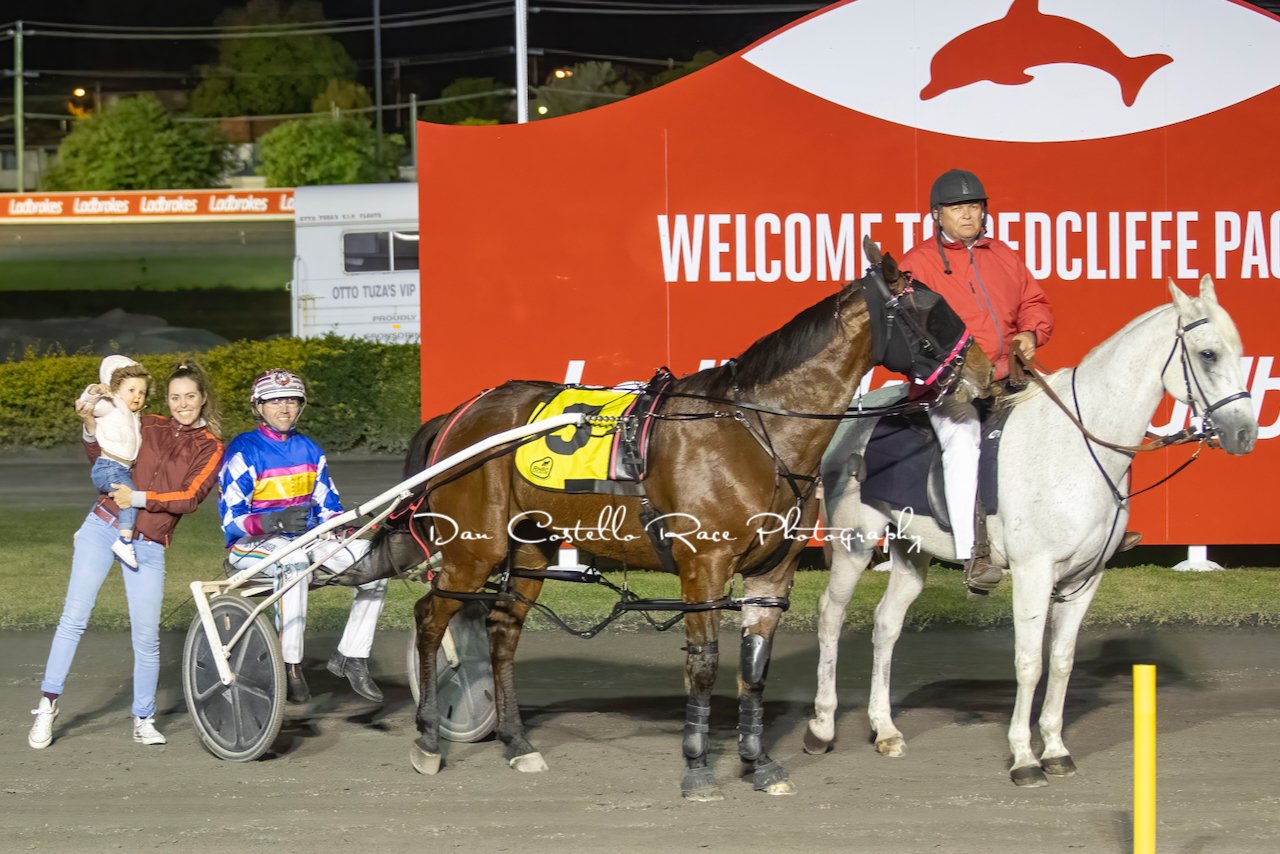 "Then he was going well again and he popped a quarter crack. Once I felt I was on top of that, the Winter Carnival came around and the racing got really competitive and he wasn't having much luck. So, I was just really relieved to have him back in the winner's circle, it was starting to feel like it was never going to happen" she added.
Chalk is the daughter of well-known Queensland horseman, Alan 'Bunger' Johnson, a quality trainer who had good success working for Stuart Hunter and preparing top pacers like Sir Galvinator, Redcourt, Hiking and Flashing Red, among others.
She has worked with horses for much of her working life including a three-month stint in America working with Ross Croghan and Colts Neck Equine Vets in New Jersey, and two campaigns across the Tasman.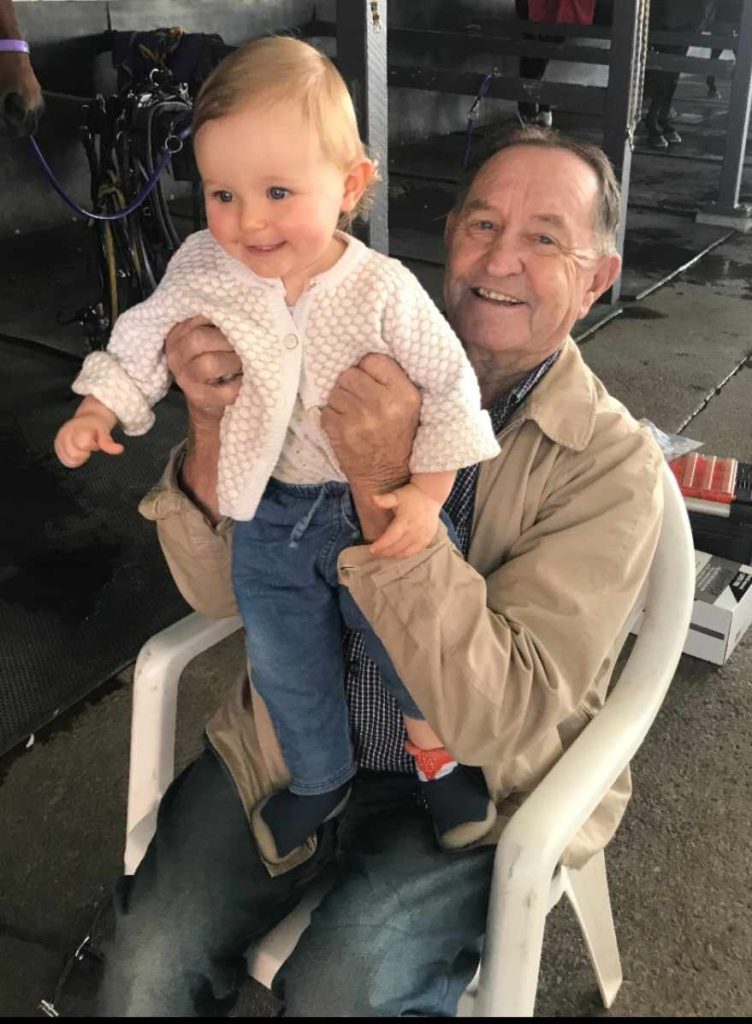 "I've also worked with gallopers, riding breakers for a stint and also riding trackwork at Deagon for a while. When I competed in Pony Club from about the age of 12 onwards, it was always on Thoroughbreds off the track that I had retrained myself.
"I was in my early 20s and always admired Flashing Red when Stu trained him. I was having lunch with Dad and Stu at the pub one day when Stu said he was campaigning the horse in New Zealand and didn't have anyone to travel over with him, I said I'll do it!!!
"It was after this trip Stu asked me to come work for him as stable foreman and things went from there. Stu has been really influential with my training career.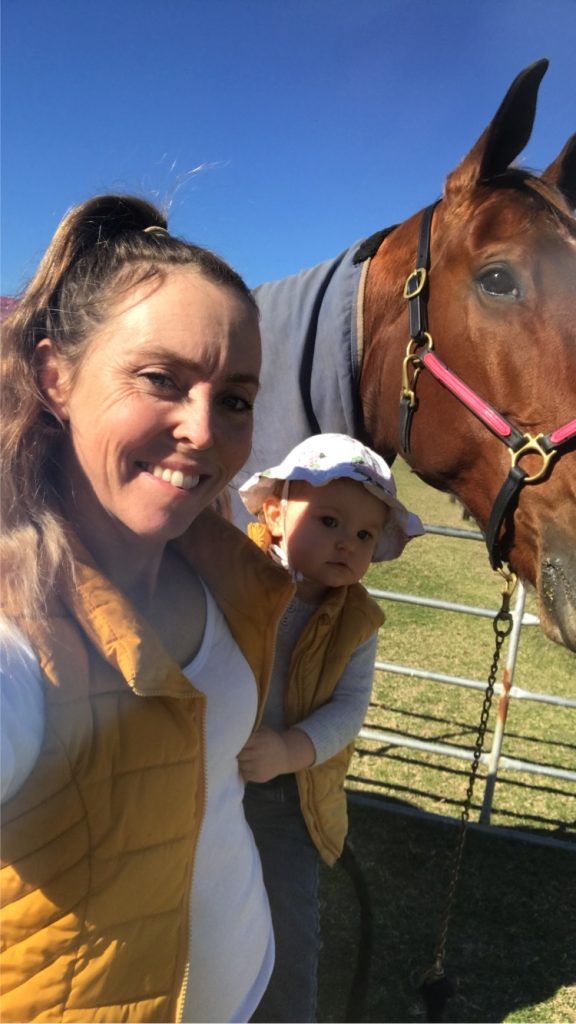 "It was the experience of a lifetime. It was so good that after his first New Zealand Cup win in 2006, she was asked to accompany him back the following year, and he unbelievably won the great race a second time – this time from a 15-metre handicap and three-and-four-wide the last lap.
"I just knew he was going to win. It was really satisfying as a lot of the reporters on TV said he couldn't do it. I just loved that horse," Chalk said.
Flashing Red (1:55.2) raced from Jan 20, 2000 to August 10, 2007, winning 38 of his 57 starts and banking $2,000,502 in stakes.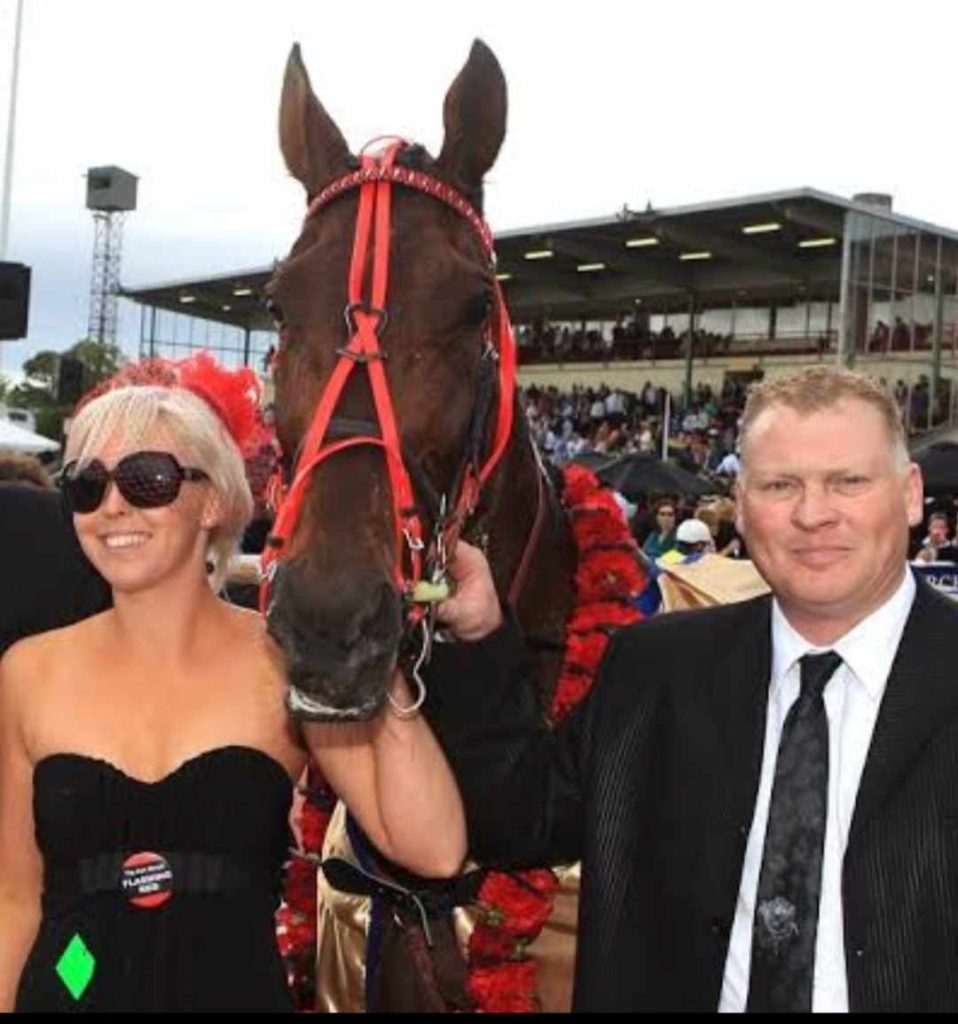 "But in saying that Young Conqueror's win was very satisfying because we have a close relationship and even at nine, I know what he's capable of. He will tell me when he's had enough," she added.
Chalk is married to Marburg horseman, Dale, and they have a 2-year-old daughter named Ivy. Young Conqueror is the only horse racing in Chalk's name at present.
She said her Dad got her into racing.
"Dad has always had horses and I got the bug from him from an early age. He said I could get in the gig when I turned 13, and when I did become a teenager, he had gotten out of the sport by then.
By that time however, I had gotten into riding – dressage, show jumping and eventing. I went down a different path.
"When Dad worked for Stu at Deception Bay, I really got keen on the sport". Well, you would wouldn't you when he was working champions.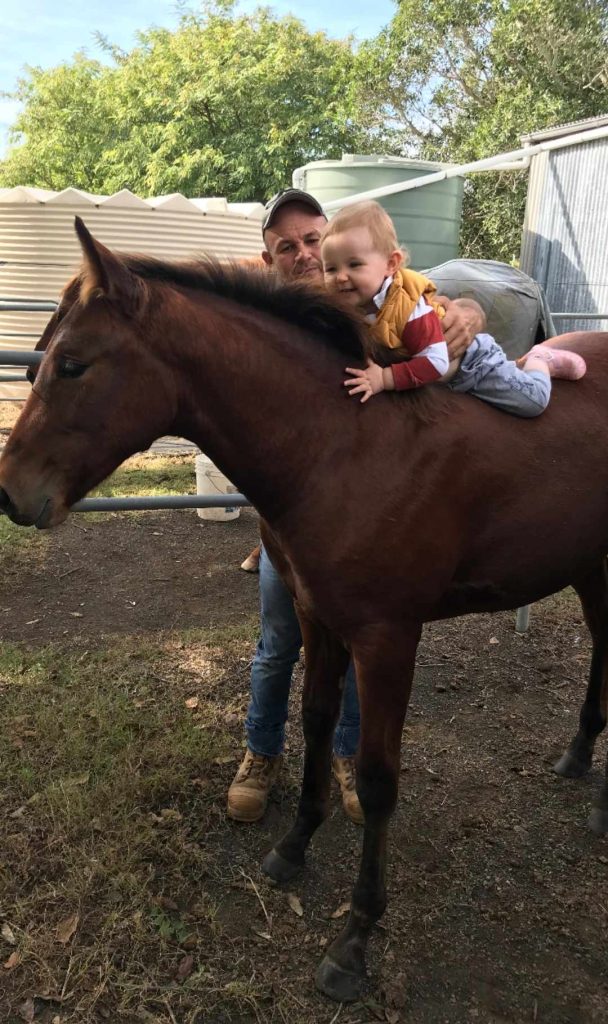 "It was while I was studying at University that Stu gave me the opportunity to go to New Zealand. They were the most exciting times and fuelled my appetite for the sport," said Chalk, who has been training since the 2007-2008 season," Chalk said.
In that time the Marburg horsewoman has conditioned 30 winners from 261 starts. She's also placed 40 times and banked $116,610 in purses. Her best year came in 2017-2018 when she trained six winners and 11 place-getters from 41 starts.
Although she prefers to train than drive these days, Chalk has had three drives behind Young Conqueror this season, and 80 career wins since 2006-2007. She's also placed 179 times from her 972 career drives and netted $341,721 in stakes.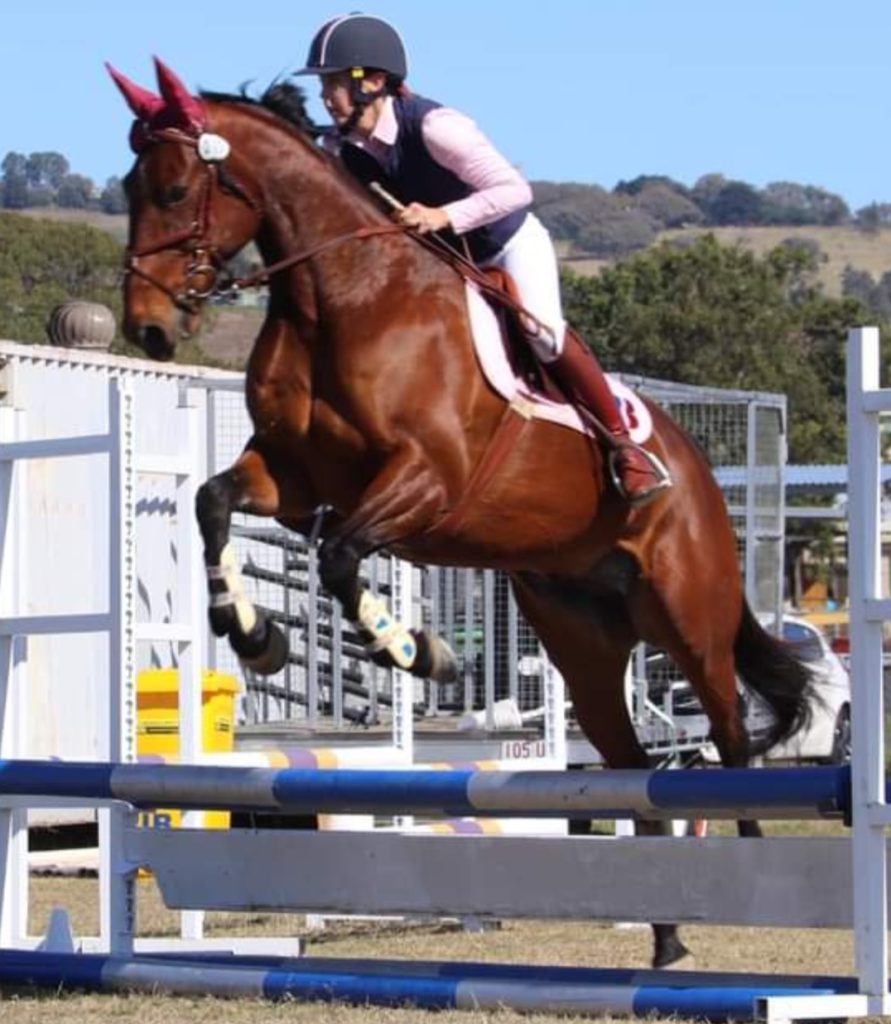 "I've always loved horses and I think they will always be in my life, but for now Ivy and Dale are priorities. I hope to get more in the future, so we are kept busy," Chalk said.
"I also do Art Portraits and Graphic Design work (Nikki Chalk Art + Design) as well," she added.
Chalk also paid a tribute to her long-time and biggest supporters, Uncle and Aunty – Ron and Gerry Dixon.
"They bought a horse years ago and he was my first winner as a driver. His name was Dare To Rock and we won at Redcliffe (March 19, 2008). He was trained by another one of my main mentors, Stephen Hatfield.
"They also bought another horse not long after that for me to train on his advice, and her name was Anxietynecstasy. She was a really nice Atom Away mare, who won eight races, but sadly we never saw the best of her with a few issues.
"Thankfully we have bred on from her and she has left three foals – Mac Sweeney (2015 Major Bronski three-win gelding); All Before Him (2018 Hurrikane Kingcole one-win gelding); and a Fear The Dragon weanling filly born on December 14. I'm excited to get the older two back to the races if I can (they've had set-backs) and I'm looking forward to see how my filly goes. They are what keep me going in the sport really."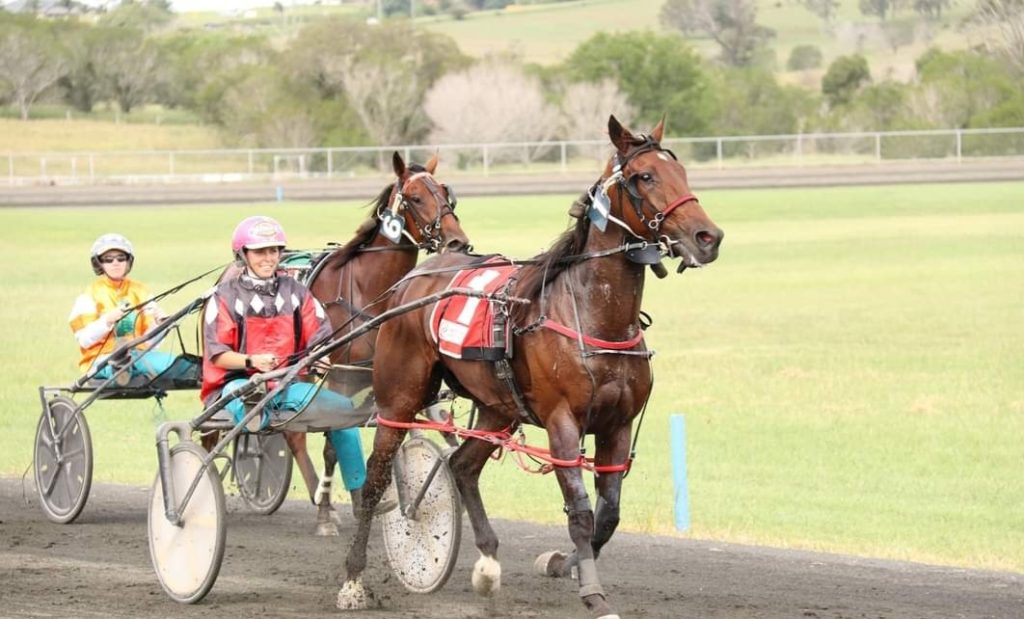 Chalk, was born in Redcliffe and educated at Dakabin and Kilcoy High Schools.
She said she enjoyed racing at Redcliffe Paceway, not only because she had won a majority of her races there, but also because she lived in the town and her first win was recorded at 'The Triangle'.
"I grew up going to the trots with my Dad when I was little and falling asleep under the restaurant tables. Also sitting next to him in his bench seat gig going around the jog track in the mornings when he trained out of Knight Street.
"Back then, I never expected to end up driving horses in races on that very track myself. It holds warm memories for me.
"The people are also friendly and it's a progressive club. I've always enjoyed racing there, and even though it's an-hour-and-a-half from home it's always worth the trip… especially when you win!" Chalk said.
She said her husband's father, Wayne Chalk. came with her to the races when Young Conqueror was racing.
"I have Ivy and he looks after her for me) so that I can still race, I should really mention that without him I wouldn't get to half as many races! He was there Monday when he won," Chalk said.