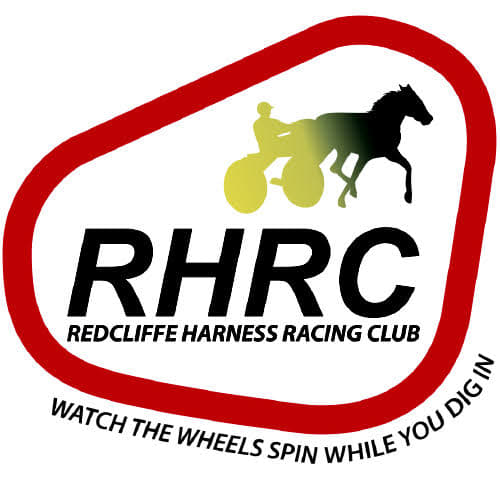 By Duane Ranger (courtesy of Redcliffe Paceway)
Australia's leading trainer of 2-year-olds in 2023, Aaron Goadsby, has deflected early season praise saying his Queensland host Stephen Cini, also needed to be applauded for two juvenile wins January.
"Most of the 2-year-old races don't start until February, and now Stephen's Jacobs Well (Gold Coast) property boasts all four juvenile winners so far this season. Stephen's brother Charlie, and his wife Christine trained the other two at Albion Park.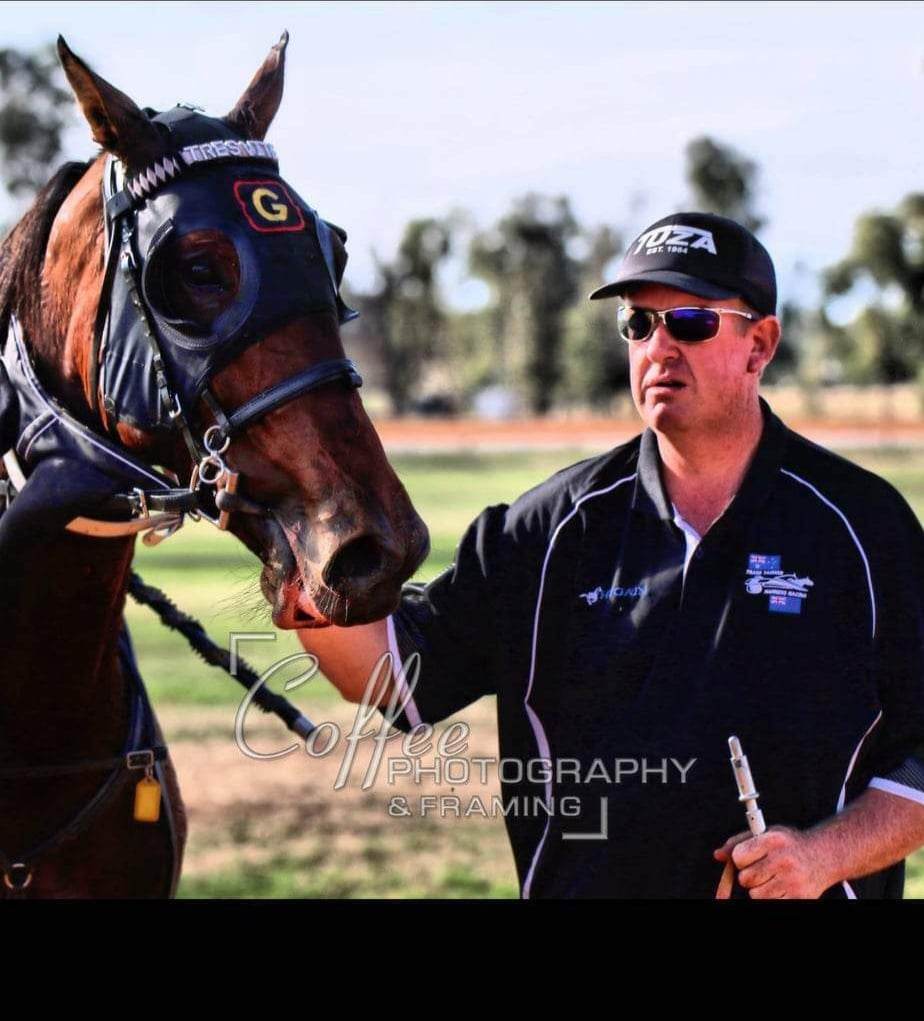 "I'm quite proud of that, but it wouldn't have been possible without the Cini family where we base our team when we cross 'The Tweed'. I'd also like to thank Racing Queensland for having the foresight to programme 2-year-old races so early in the season," Goadsby aka 'Gooz' said.
The Goadsby trained and Shane Graham driven Ignite The Fire justified his $1.70 favouritism at Redcliffe Paceway on Wednesday evening (January 25), when defeating his older rivals in race six – the Elders Woodford Maiden Pace, by 11.9 metres, with a 2:00.0 mile rate.
Eight days earlier the Goadsby trained and Brendan Barnes driven La Derniere got up at odds of $19 in the 2yo Burwood Stud Pace. She won by 1.7 metres with a 1:58.1 mile rate.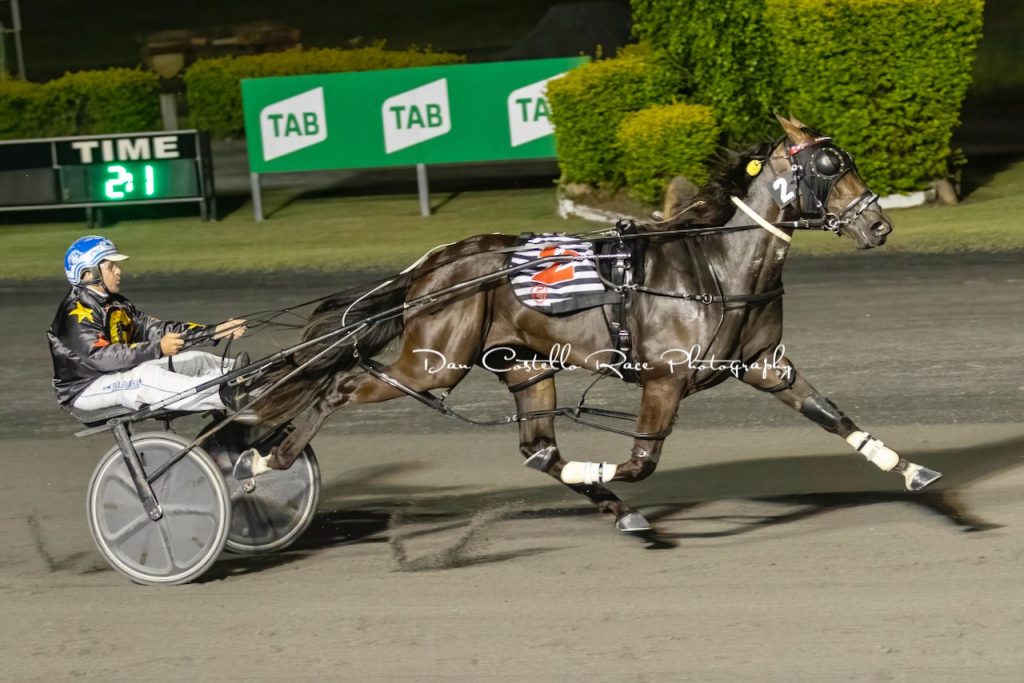 Goadsby, who works a team of 12 (including six 2-year-olds) from his home base at Whittingham (72km from Newcastle), said Ignite The Fire had the potential to be the pick of them.
That's some comment considering the 42-year-old New South Welshman also qualified four other 2-year-olds – the very night Ignite The Fire won at Redcliffe Paceway.
Eighty-three minutes before Ignite The Fire notched up his first career win in two starts, the Goadsby trained and Mark Callaghan driven Luvrareschs (Art Major – Maxwells Pride 2yo filly) beat stable mate Artistic Scott (Always B Miki – Artistic Kate 2yo gelding) by a neck.
Both qualified with the fourth-placed Sweet Valeria (Sweet Lou – Virtual Hanover) going under the required time.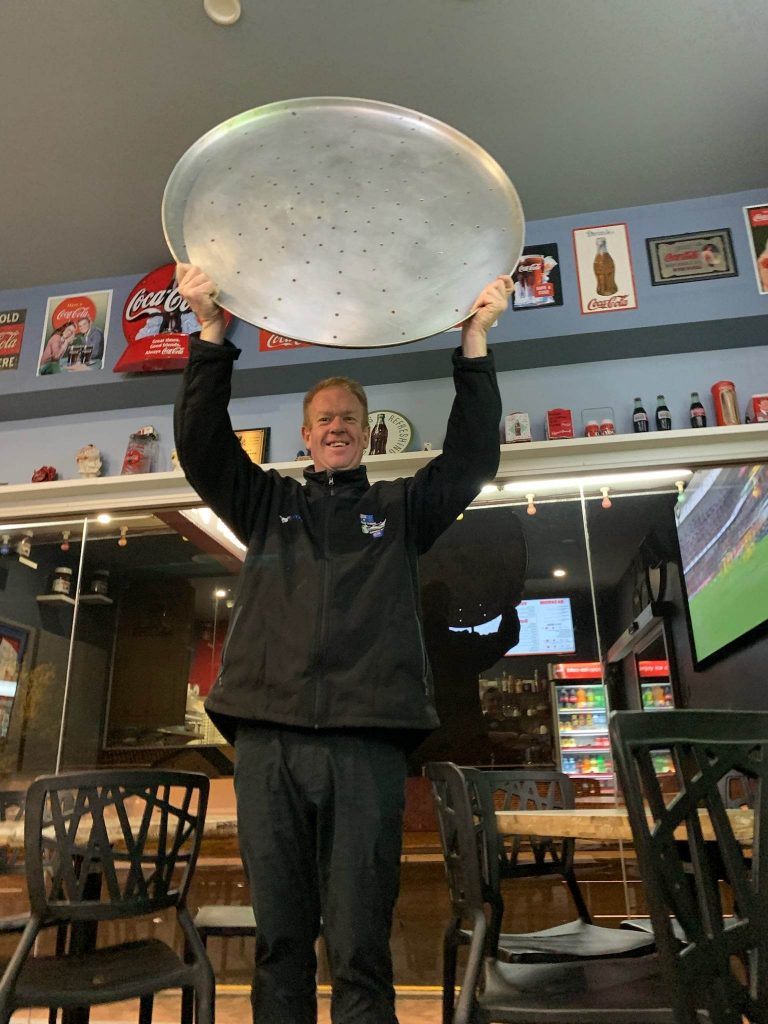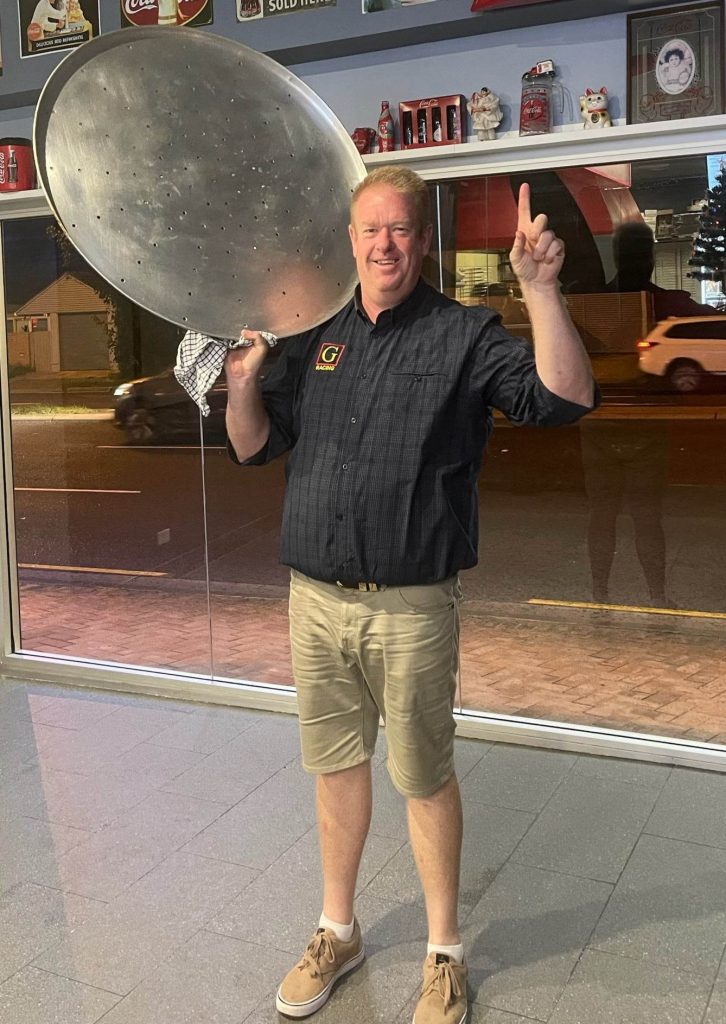 Then 10 minutes after that Trial, the Goadsby trained and Darrel Standen driven Kozaczynski (American Ideal – Angelas Image 2yo gelding) also qualified when running third in his trial – death-sitting for the trip..
"It was a successful night. We've never paid more than $47,500 for any yearling Sales foal. But that's what we paid for Ignite The Fire in Sydney last year.
"Her breeding didn't go that deep and she wasn't on a page that jumped out at us, but her photos and videos, and then seeing her in the flesh made up for that made it a different story.
"She was a beautiful mover with a great conformation. I just liked the way she walked and the ground she covered. Some people thought I paid too much for a Vincent filly out of a Rock N Roll Heaven two-win mare named, Allfiredup, but it just felt right at the time.
"I'm glad I got her because I missed out on the rest of the Sale. Now almost a year later she has progressed real well. I liked the way she won at Redcliffe. Shane drove her to perfection. There was still a bit left too, which is encouraging," Goadsby said.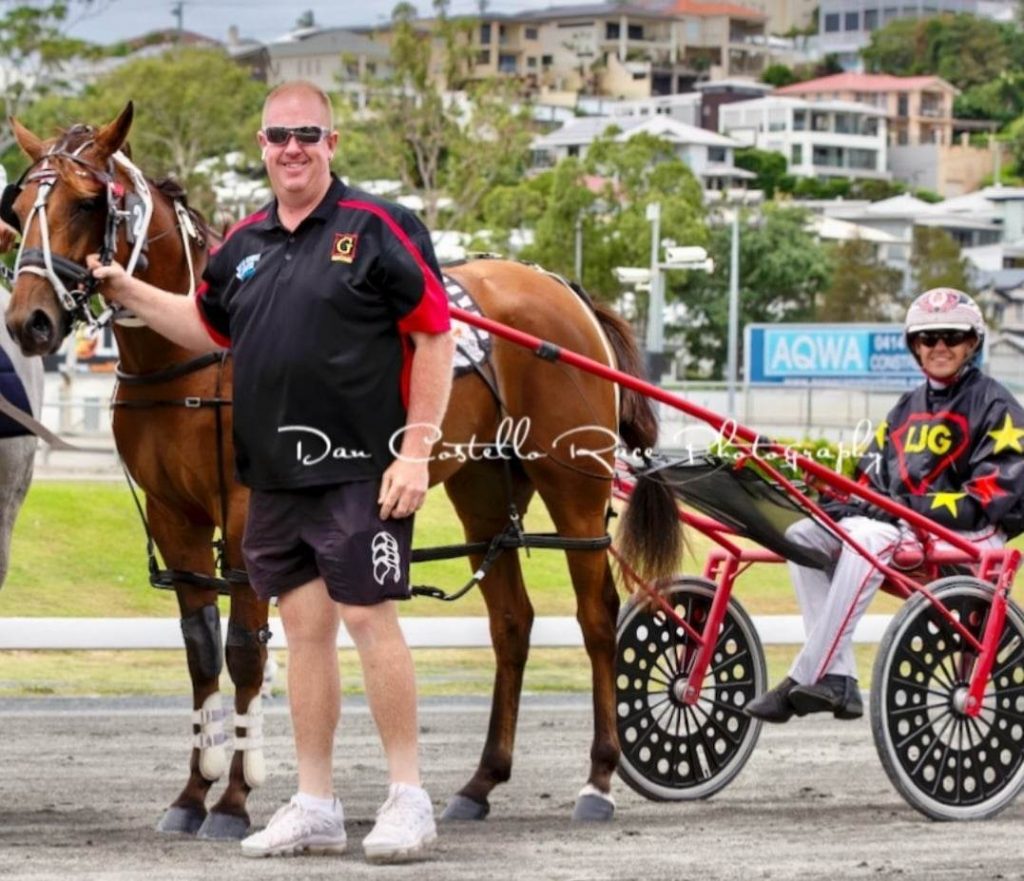 "None of this would have been achieved without the Cinis' and their families. The facilities are 'A-1' and the horses settled in straight away," he added.
Graham had Ignite The Fire nicely situated in the one-one from gate two, and then with 400m to go he unleashed the brown filly – who in turn ran away to win by 11.9 metres.
She paced the 1,780m mobile in 2:12.7 (mile rate 2:00.0) with final sections of 30.7, 30.8, 30.1, and 29.7.
Ignite The Fire is owned by Goadsby's Goozdolphin Racing, Darrell Standen, Craig Meyn, Joe Sroba, Luke Sroba, Jake Standen, Tony Hale, and Chlomax Pty Ltd.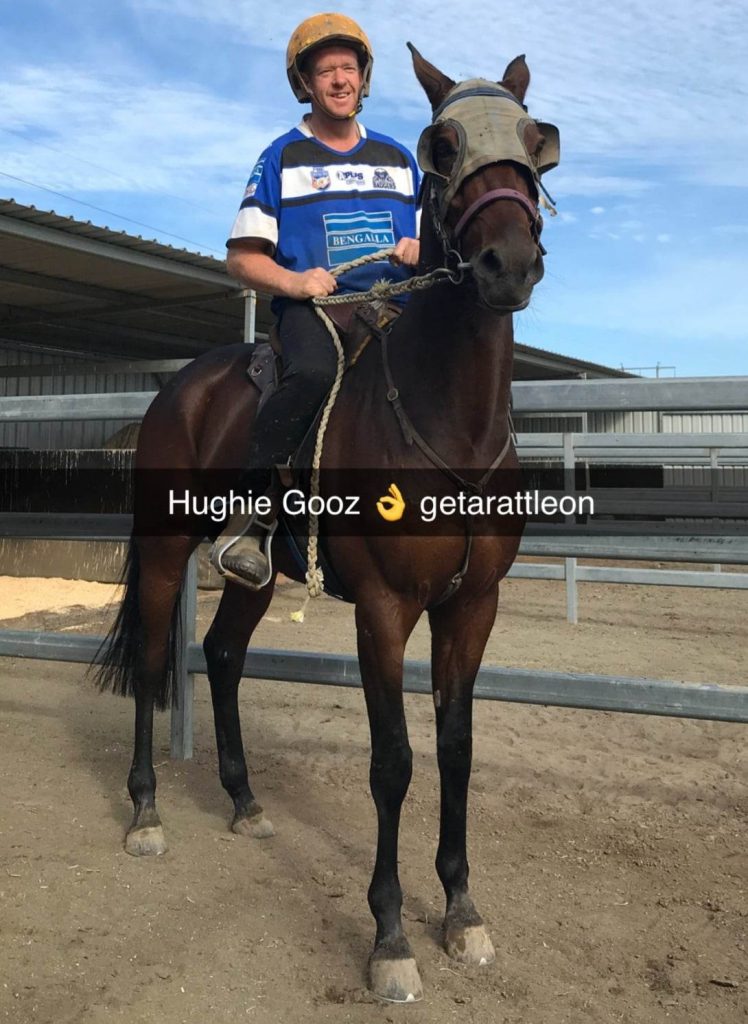 She qualified at Newcastle on January 11, and then finished fifth on debut at Albion Park on January 17.
"We arrived here the Sunday before the races (January 15). We left about 3am and got here at around 11. The filly will line up again at Albion Park on Tuesday, where's she's drawn two in the 2yo race (race two – 1.17pm).
"The reason we bought her up here was to get form for the Pink Bonnet. They select on form. We bought up La Derniere as her stablemate and it was great to see her win as well with the Q-bred bonuses a sweet topping to both wins," Goadsby said.
The Group Two $50,000 Pink Bonnet for 2-year-old pacing fillies, will be run at Tabcorp Park, Menangle on February 25.
Goadsby said his Goozdolphin Racing business enjoyed buy and selling yearlings at the Sales, and then racing them as juveniles and 3-year-olds.
"That's where the money is in the United States and that's where it is down here. We have sold three $115,000 plus yearlings at Sales in 2022, and will be looking in Australia and possibly Christchurch again this time round for our 2024 2-year-old crop.
"There's nothing like raising a yearling and then train him or her into a quality racehorse. There's nothing like training, owing, or breeding a winner as well," Goadsby said.
Hunter Valley-born and St. Catherine's Singleton College-educated Goadsby, has now trained 83 winners from 445 starters since the 2015-2016 season. He's also placed 113 times and netted $617,464 in prize-money.
His best season came last years when he conditioned 21 winners and banked $188,568 in purses.
"I also trained another 35 winners when I teamed up with Mark Jones for 12 months back in 2019," Goadsby said.
"I learnt so much working with Mark. You can see why he's a former World Driving champion and that he hails from one of New Zealand's greatest harness racing families. I'm building on what I've learnt from Mark's patience and the ground-work he puts into his horses.
Goadsby said the best horse he had so far trained was the 2013 American Ideal 18-win ($140,367) mare, Takara Truffle.
"She won two Group Three races for me and was a lovely mare to train. She's the best so far, but I'm hoping that first Group One win isn't too far away," Goadsby said.
For the record his two Group Three wins came via the Michael Formosa driven Takara Truffle in the NSW Go Girlfriend Series Final at Menangle on July 22, 2017.
A month later (August 19) at the same venue, the American Ideal – Truffle filly won the Baby Bling Stakes in the hands of Mitchell Reese.
"Takara Truffle provided me with many special moments in this sport. It was an absolute honour to win the Charlie Camilleri Memorial Pace with her. And we also won the Carlie and Carmen Camilleri Memorial with Threebushelsofoats at Maitland on December 30.
"That was a huge buzz in memory of two people who took me in and educated me both in life and with horses. I'm indebted to them so much.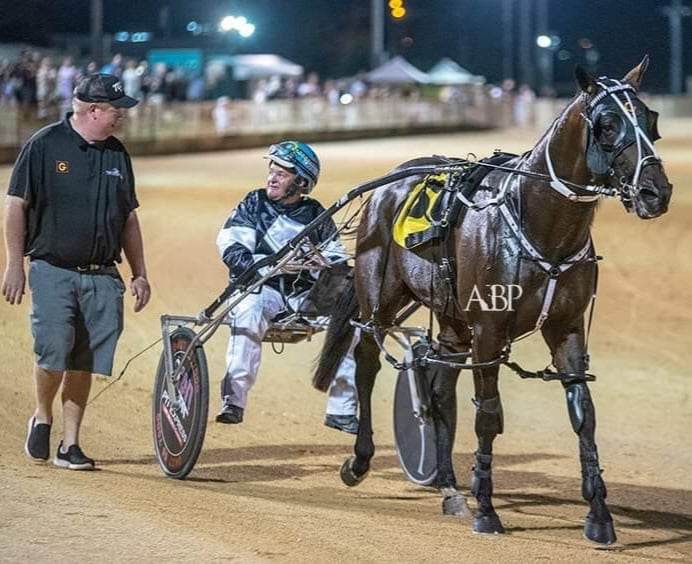 "Charlie was a mentor of mine and taught me a lot about training. He had a big influence on my career early on. I was very sad when he passed away aged 71 in 2015."
On a positive note, Goadsby said he enjoyed racing his team at Redcliffe Paceway.
"The track is great and the people are friendly. The win has meant Ignite The Fire now has valuable form leading into the Pink Bonnet.
"I'm grateful to the Club for that. I've always enjoyed racing at 'The Triangle' and will continue to do so," Goadsby said.
Apart from his two Group Three wins and his Camilleri victories, Goadsby also said La Derniere's victory at Albion Park on January 17 was also a highlight.
"The filly carried the colours made by myself in memory of my late son, Levi Jack, and co-incidently the victory was on Levi's first heavenly birthday after passing away at just five days old in Jan 2022.
"I'm hoping in time other horses will carry the Black, Red and yellow stars with the red Superman shield and encrypted with LJG to victory in memory of his little man.
He also paid a tribute to his driver and stable foreman, Darrell Standen.
"Darrell does a great job for me. He's a good worker and a drives my horses early at the Trials. He does the early education at home. He teaches them key things early and believe me it helps heaps when the races come around.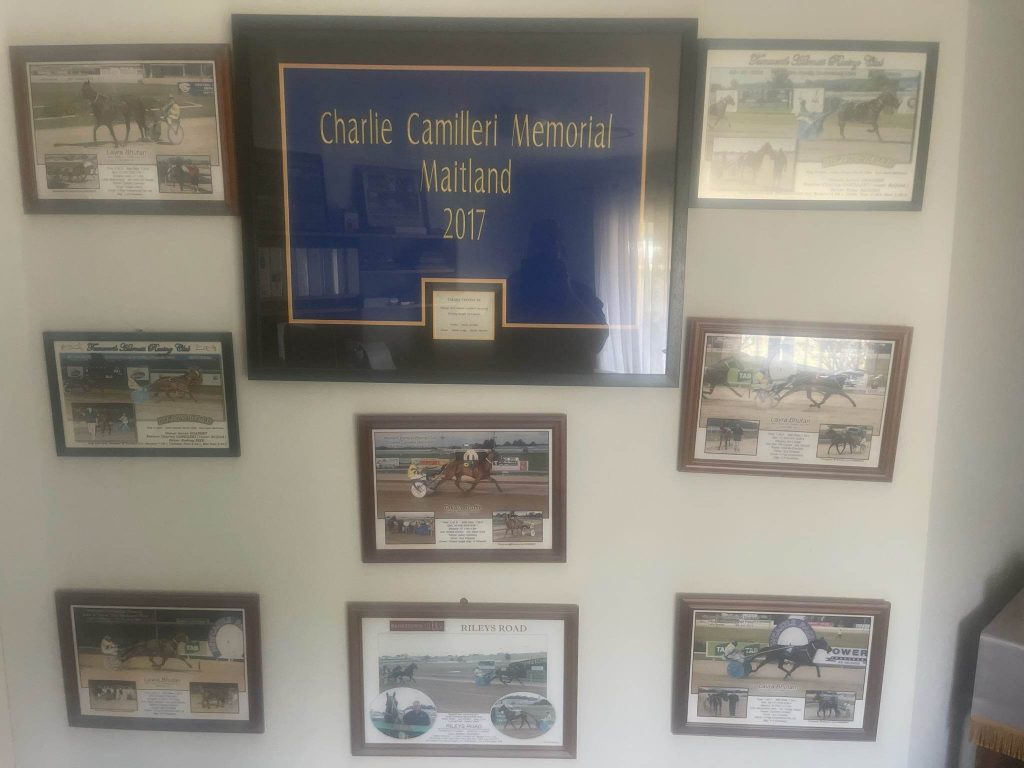 "Every win I have is a team effort with all staff having the ability to handle all tasks needed, even when I'm away from home," Goadsby said.
Not from a racing family, Goadsby said he got into harness racing back in the late 1990s when he and a few mates bought a pacer, and the bug grew from there.
Goadsby is also a busy man owning and managing Transport Company Pit Express, which boasts more than 60 staff, plus contractors.
"The fleet of 70 Utes and trucks is a business which operates 24/7-365 days and covers critical deliveries to mining companies and associated businesses,.
"I started as a driver 17 years ago and grew the business, and then decided to take a 100 per cent ownership in 2021.
"The business and the horses certainly make for long days big hours and hard work, but it's the drive that inspires to do my best at everything.
"I turn my hand too, which makes the success we have in both businesses. I try to instill that philosophy into the horses and the staff around me," Goadsby said.