By Duane Ranger (sponsored by Ross Fletcher Racing S­tab­­les)

Longevity, durability, perseverance, persistence, toughness, endurance, resilience, tolerance, lasting power, grit, fortitude, and bottle.
For more than half a century Caboolture trainer, Stewart Dickson, has conditioned standardbreds. His career has been based on the above virtues.
So much so the North Queensland-born 70-year-old's stickability and staying power has been so influential that his stamina has rubbed off on his horses – one in particular.
On January 25, Lancelot Bromac and regular driver, Dannielle McMullen broke a unique Albion Park record – the most raced horse at 'The Creek".
Up until then grand old campaigner, Destreos, had lined up a whopping 323 times at Albion Park between September 2009 and July 2017.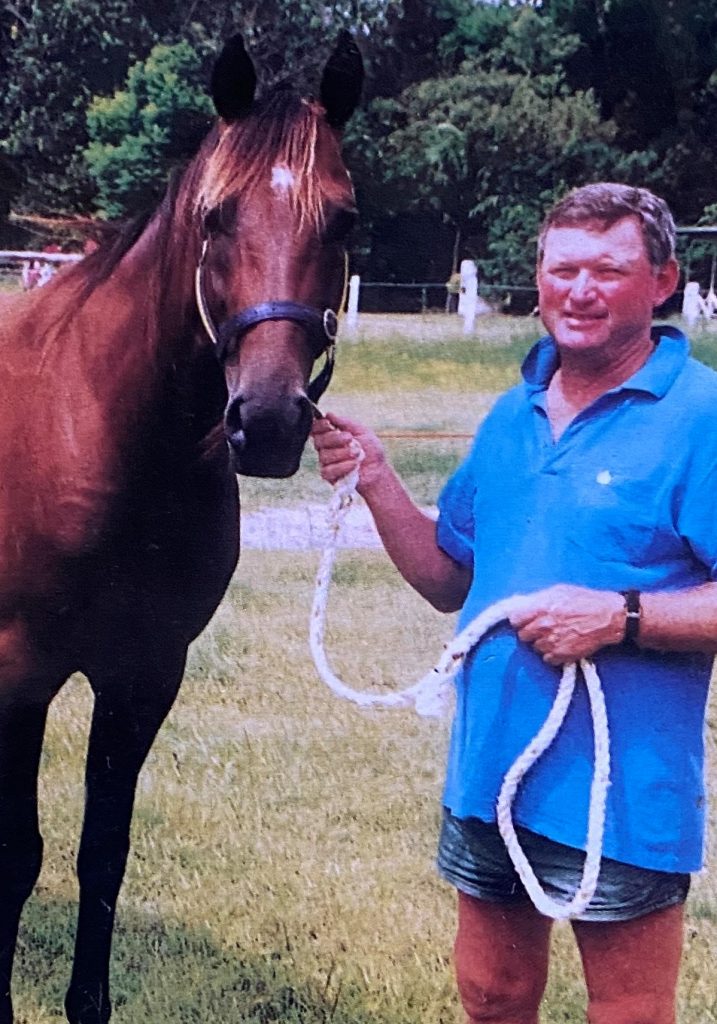 Two days ago (Tuesday September 8), Lancelot Bromac (1:53.8) finished second in the fifth event after opening up at $16.
It was his 355th start at Albion Park. He's now won 27 of his 382 career starts, placed 108 times, and banked $305,225 in stakes since he made his race-day debut on the Gold Coast on May 11, 2012.
All-up Destreos raced 484 times for 101 wins and earned $827,169 in prize money.
Lancelot Bromac made his debut with an eighth place on the former Gold Coast track on May 11, 2012, where Shannon Price trained him for his first five starts before Dickson took over when he was two on August 7, 2012.
"He's part of the family and he just wants to go to the races – he's an old war-horse and has no idea that he's rising 11," Dickson said.
"I'll just keep racing him until he tells me to stop, but at this stage he's never been fitter."
"I got him off Tony Price when he was two, and I broke in a lot of horses for Tony and he didn't think the horse would make it in his stable.
"Mitchell Manners, who calls thoroughbred races in New South Wales, is also a part-owner in the pacer.
"He's one of six I'm working, but this fella has a great constitution and it would be silly to retire him when he's racing as good as he ever has," Dickson said.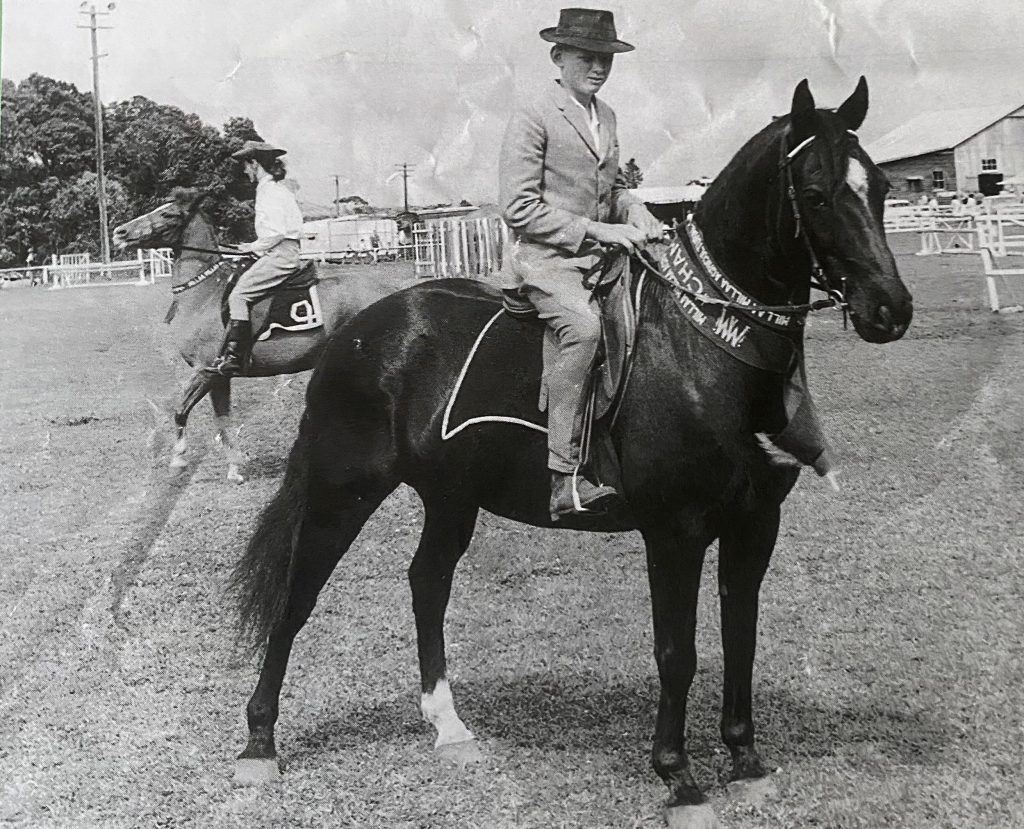 But despite that Albion Park record, Dickson, had bigger praise for Queensland's other major race-track – Redcliffe Paceway.
"That's where it all started for me. Back then (late 1960s) Albion Park raced the clock-way-around and I preferred Redcliffe. I had most of my early success on that track.
"I won the driving and training premiership at Redcliffe. I also won the Rocklea Premiership as well, but only ever dead-heated at Albion Park one with the late Jimmy Retchless.
"I really enjoyed driving at Redcliffe. I was really fond of it, and still am. It's a great track to drive on. The best drivers know when and how to make their run on it," Mr Dickson said.
In fact, Dickson is still going stronger than ever at 'The Triangle'.
Last Thursday the durable trainer conditioned only had two starters line up at the Redcliffe meeting for two Nathan Dawson-driven placegetters.
Ashlee Nitro and Nathan Dawson finished a 1.9m second in race two, and then four races later, Big In America finished third.
"There's been a lot of water go under the bridge since I first started out in more than half a century ago. I'm a bit like Lancelot Bromac though, I have no intention of retiring.
"This is all I know and I'm still enjoying it. Once it's in your blood you've got the bug for life. Hopefully I can go on for a while yet," Mr Dickson said.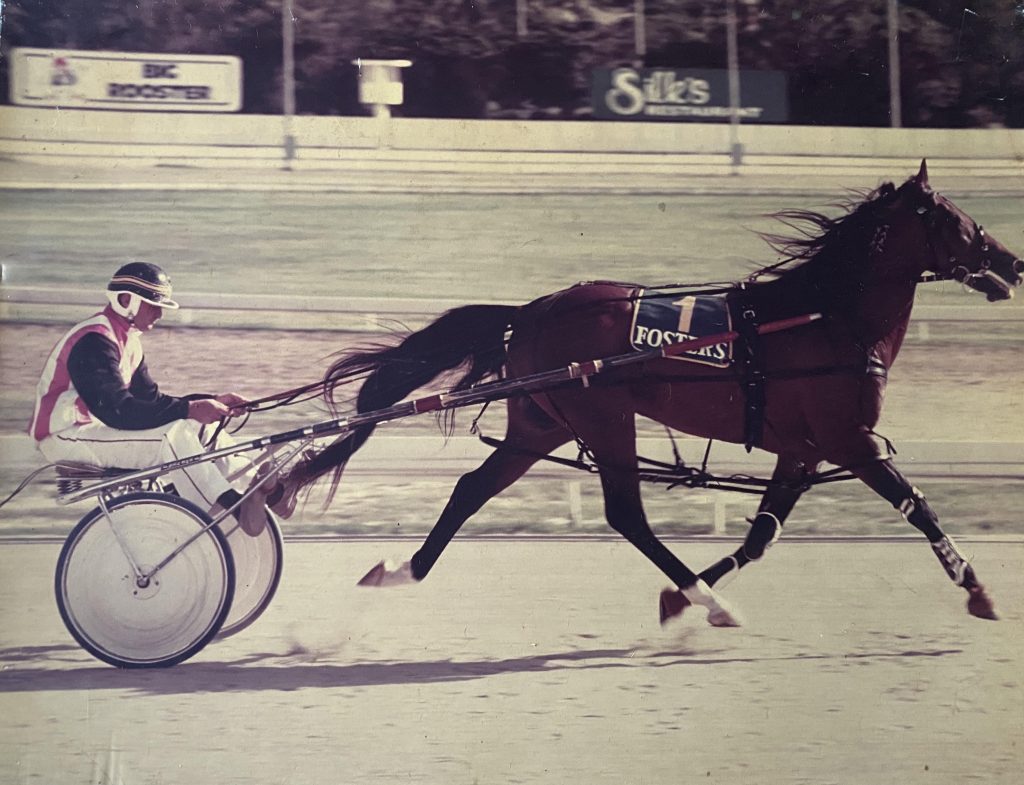 Mr Dickson said he had trained over 1,500 winners and driven about 600 in a career spanning back to the early 1960s.
"I was born in Innisfale and educated Cairns High School. I wasn't born into a harness racing family. Dad (Tom) managed a fertiliser company, but Tony Price (a prominent harness racing owner) went to my school.
"Because Dad was involved in the agriculture industry, we used to go to all the North Queensland Shows where I loved watching the trotters and pacers race in the show rings.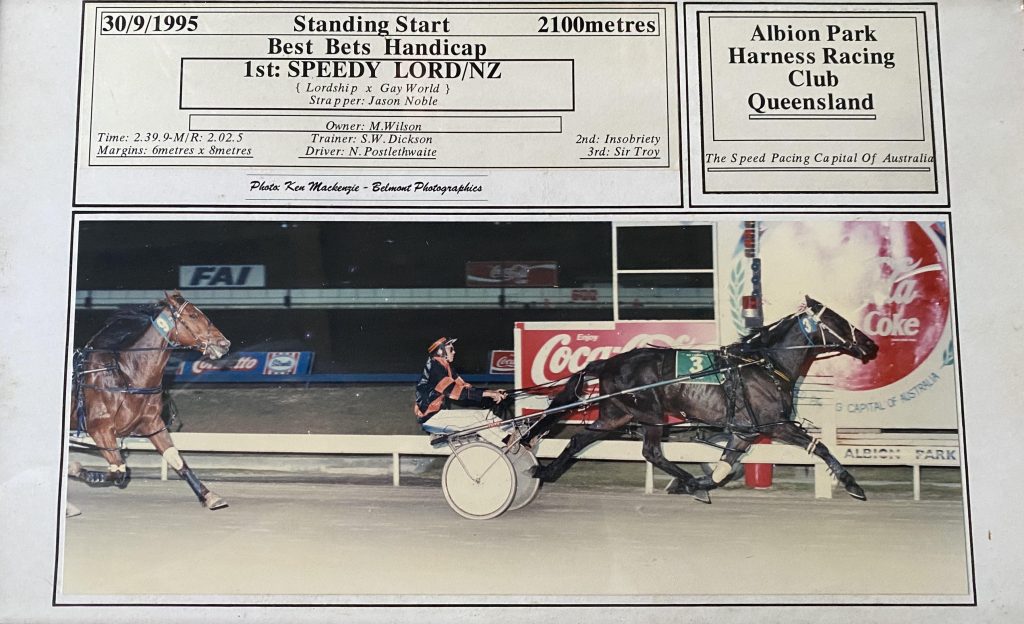 "I used to go to Paramatta Park (Cairns) every Saturday afternoon. We lived fairly close and got the racing bug from there. I loved watching Kevin and Scott Glendon, David Sallis, Reggie Hubbard, and Bob Jenkinson train their team. I used to help them out and knew from an early age this is what I wanted to do."
Mr Dickson relocated to Brisbane with his parents and two brothers and I went out on my own at Bridgeman Downs (now Aspley) in 1964. I moved from there to Caboolture 30 years ago.
"My neighbours Rod and Kenny Belford helped me out a lot in those early days. I used to have a bread run and I used to give them a hand as well.
Meet the Ekka prodigy who became a Redcliffe legend
"Then Jimmy Croghan had an old horse named Son Of Jerry that he thought would suit a young fella just starting out. He went on to win a lot of races. I think that horse taught me more than any human about training standardbreds.
"I was thrown in the deep end and because of that gelding I managed to learn a lot in a very quick time. He was my first race-day winner on the old Gold Coast track."
By the late 1960s Mr Dickson had established himself as a quality trainer working a team of about 30.
"We used to swim our horses and work them on a little sand track we had on our property. Every day we would also take a team over to Albion Park for fast-work. There was a lot of floating to and from Bridgeman Downs in those days," Mr Dickson said.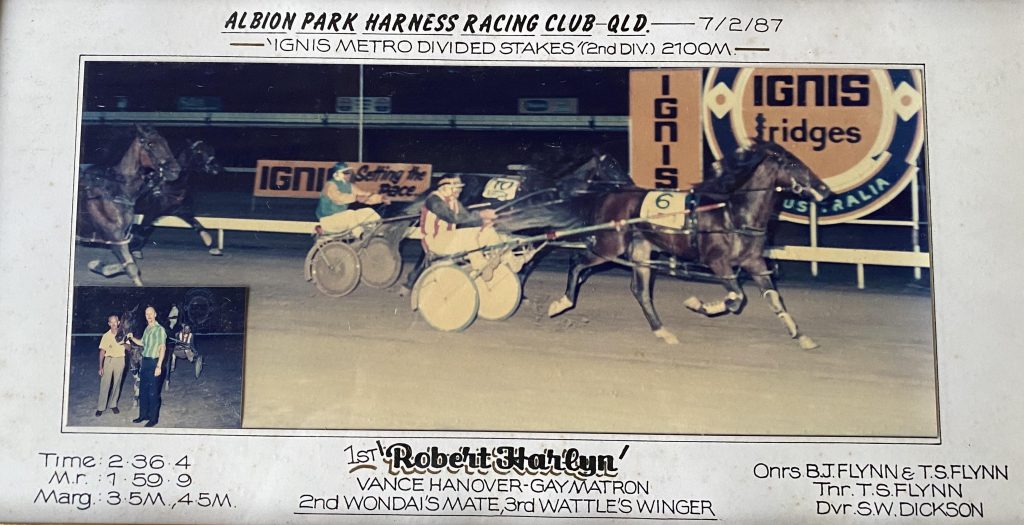 "I've had a lot of good horses over the years and won a lot of nice races like Triad finals. I think Waylow was my best but I also trained other good ones like Lord Minbar.
"The Terry Flynn trained Robert Harlyn was probably the best horse that I've driven. I also drove Simply Stunning to win a 2yo Triad for the Flynn brothers (Barry and Terry).
"Then there was Makin It Easy, who I trained for Doug Lyons. He won his first 10 races as a 2-year-old including the Breeders Triad. We also won the Redcliffe Derby.
"But perhaps my best driving win was behind Robert Harlyn in the Group Three 1987 Sunshine Sprint. He also a Derby Consolation, a Members Cup, and finished third in Final Albion Park Winter Cup.
"He was a 1980 Vance Hanover colt who won 35 races and more than $100,000 for trainer, J.R. Retchless."
He said he could have driven a lot more but after a horrific fall when he was about 50, he handed the reins over to his son-in-law, Nathan Postlethwaite.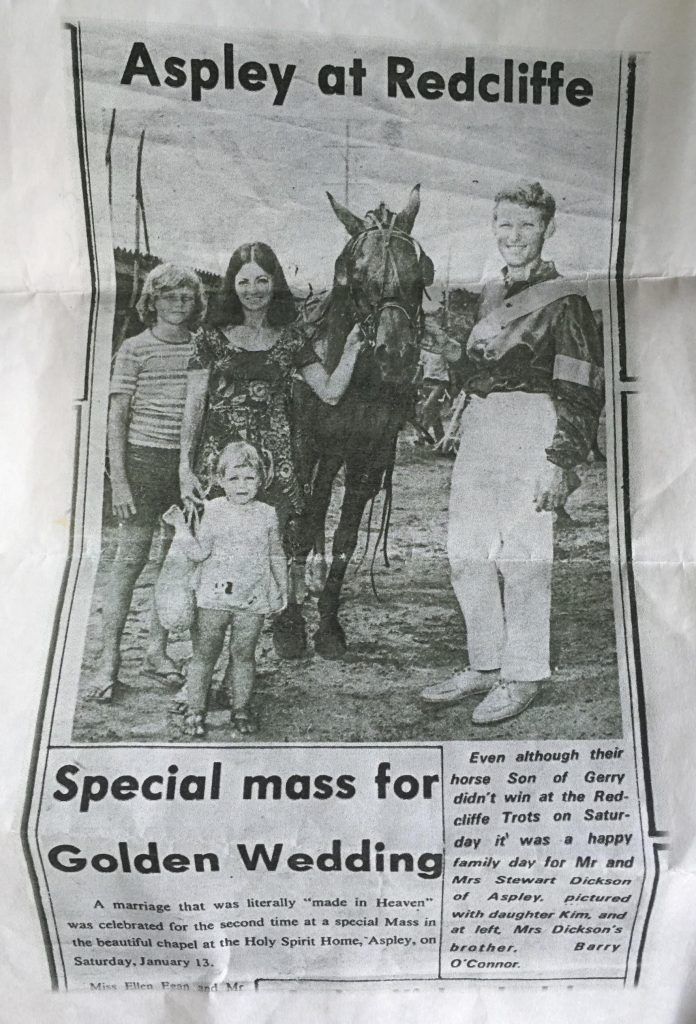 "Nathan was a competent, and complete natural in the sulky. He had such a great bond with horses, and held the reins for me for 20 years. He married my youngest daughter, Jodi. Their daughter (my granddaughter) Lilly, is a professional AFLW footballer who plays for Brisbane Lions.
"My other daughter is Kim Warwick, who has worked as a purchasing officer for Garrards Horse And Hound for over 20 years. We also have five grandchildren and three great-grandchildren," Mr Dickson said.
But his pride and joy is undoubtedly his wife of 50 years, Lorraine.
"She is my rock and without Lorraine in my life I would never have been able to achieve half the things I have in harness racing. I owe it all to her," Mr Dickson said.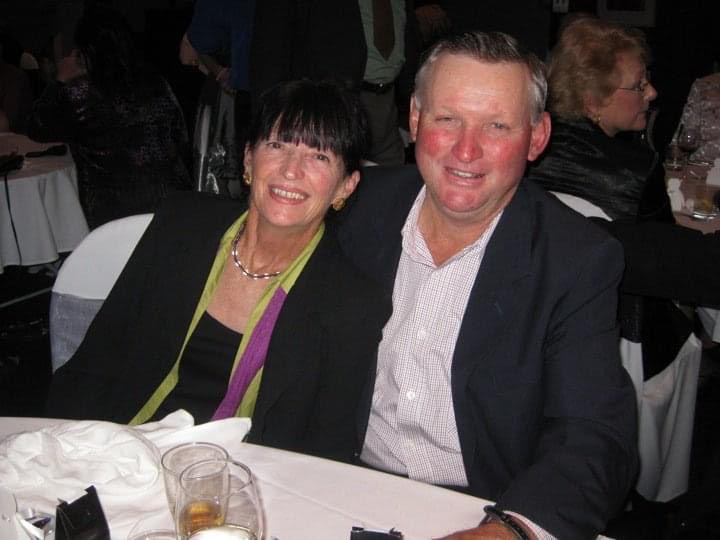 Footnote: The featured photo is Lorraine Dickson, Matthew Taylor, Jamie-Lee Taylor (granddaughter), Stewart Dickson at Jamie-Lee's and Matthew's wedding.