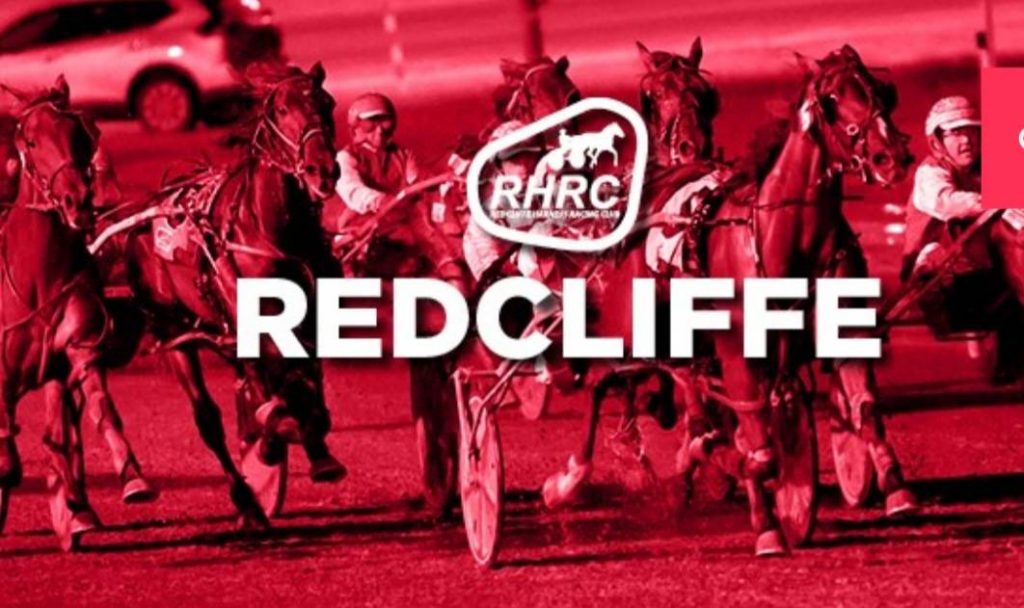 By Duane Ranger (courtesy of Redcliffe Paceway)
The year is 1970. Richard Hutchinson is 15 turning 16, and his first racehorse, Geehi, is ironically, also 15.
That gelding never went on to achieve much on the racetrack. In fact, he never won a race for Hutchinson, who later went on to become a qualified plumber like his father, Ron.
But Hutchinson will never forget Geehi.
"It was about the time I left school and before I got my plumbing apprenticeship, and Geehi belonged to Don Ross, who had people's hand-me-downs. He asked me if I wanted to train him, and I jumped at the idea. The horse taught me all I needed to know early on.
"I'm 69 next month so that's more than 50 years working on-and-off with horses. It's something I really enjoy. I treat my horses like pets and find it difficult letting them go.
"Now I've got the most horses I've ever had – 35 in all, including 11 in work," the Tamborine horseman said.
Harness Racing Australia records say that Hutchinson has trained 186 winners and 491 place-getters from 2,419 starts since the 2007-2008 season. But Hutchinson said he would have trained a lot more had he not gone full-on into breeding in the 1970s and 1980s.
"Training always been a hobby after my trade and breeding.
"I've only really started to get more involved in training more since Dad went into a home five or six years ago since Dad passed away in 2020. He lived on our property until the was 97, and we have been here for the last 20 years or so," he added.
Indirectly, Hutchinson has been responsible for thousands of standardbreds thanks to his breeding initiatives.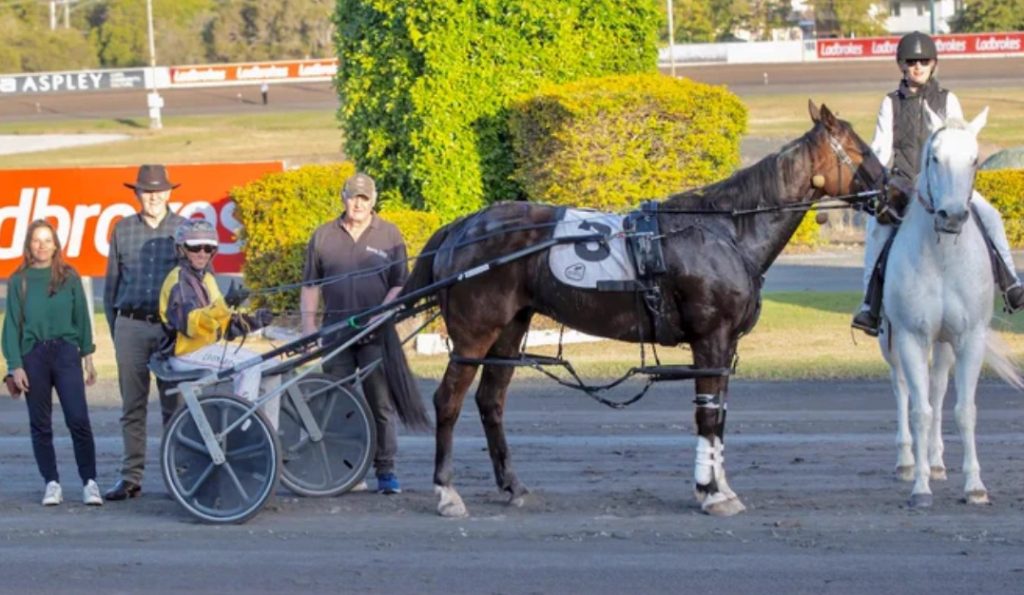 Hutchinson was a part of an ownership Syndicate that imported American pacing giant, Land Grant.
Hutchinson said that 1978 Meadow Skipper entire was a millionaire on American racetracks and then in Australia he produced one of the best pacers this country has seen – the 1985 double millionaire, Westburn Grant.
He said another one of Land Grant's best off-spring, the 1988 brown gelding, Sports Men, who won 46 races and more than $200,000, was the fastest Australian-bred pacer to win in the United States (1:53) at the time.
"I actually bred Sport Men, which was an honour. I also imported Jeremy Laurence when his brother, New York Motoring, was really succeeding in New Zealand time. He didn't turn out to be as good a sire as his brother, but he did leave a few good winners, including Grant Dicon's Jeremy Lee, who won a Derby.
"Lorraine and I set up 'Richlor Downs' back then and were also breeding up to 20 mares a year, and we had more than 100 horses on our [property at our peak.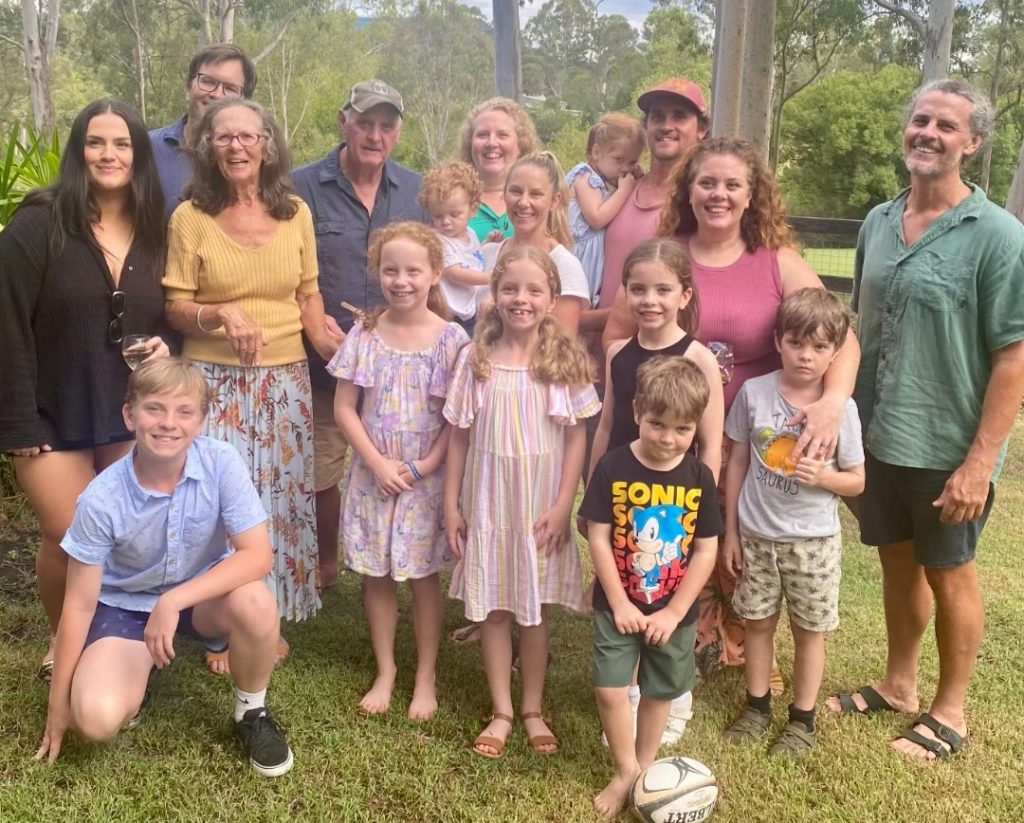 "We managed to whittle all those numbers down when I got more into training, but we 'cleared the decks' are now up to 35 again, and still have plenty of lovely mares that could be serviced.
"It's just I'm very busy training now and if I can't put 100 per cent time into my mares then I won't do it…but I will eventually," Hutchinson said.
"Back at our breeding peak we would have 100 horses and just one or two in work. They were huge numbers, but now I'm really enjoying the training side of it – despite Lorraine and I being kept very busy," he added.
But Hutchinson's latest training triumph came at Redcliffe Paceway last Thursday afternoon (August 17) when the Leonard Cain driven Tungsten Terror won race five – the Stevie Redback Pest Control NR40-45 Pace.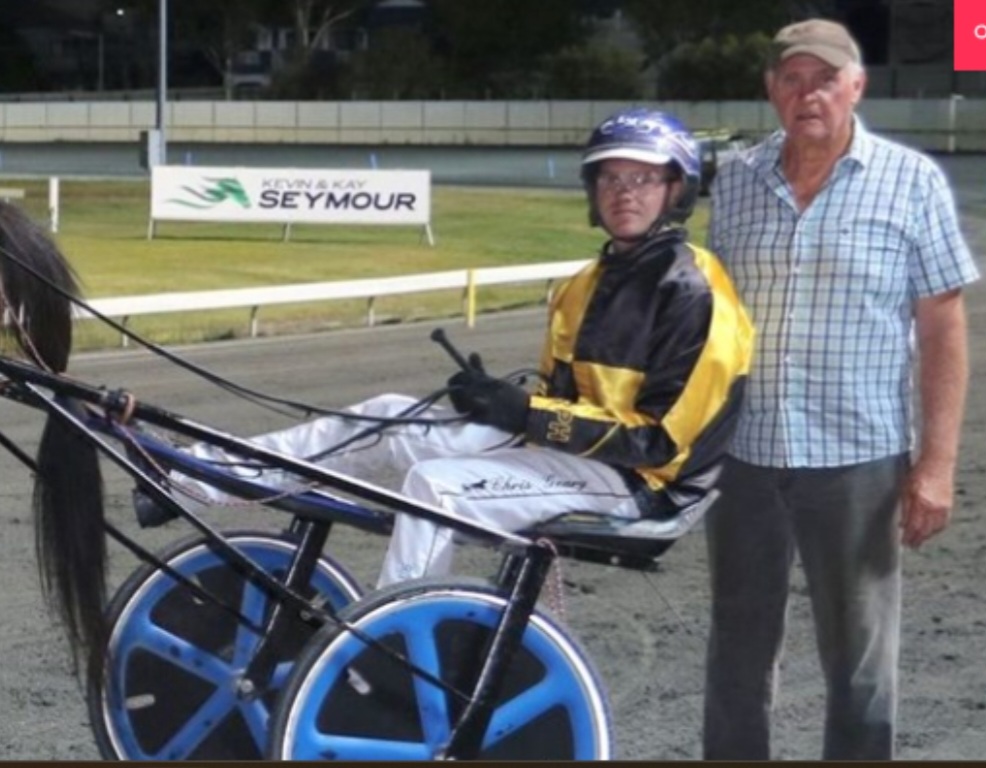 The 10-year-old gelding, dictated all the terms from the outset, pacing the 1,780m mobile from out in front in 2:12 (mile rate: 1:59:4) – with final sectionals of 31, 32, 29.3, and 28.6. He won by 4.7 metres and was the $1.80 favourite.
The brown son of Live Or Die has now won 11 races from 79 starts, and also placed 11 times ($64,150) for Hutchinson and his wife Lorraine.
"We bought him in March last year after he had been racing in The Riverina. That's his seventh win for us now (Redcliffe 3, The Creek 3), and Marburg where he set a 55-track record. He's getting on now and is just a racehorse.
"He's a big horse, who is not up there with the best I've trained but if the real Tungsten turned up he could be up there with the open class horses, but that hasn't happened yet.
"I thought he might go well from the nice draw (3) in this grade though, and Leonard drove him very well out in front," Hutchinson said.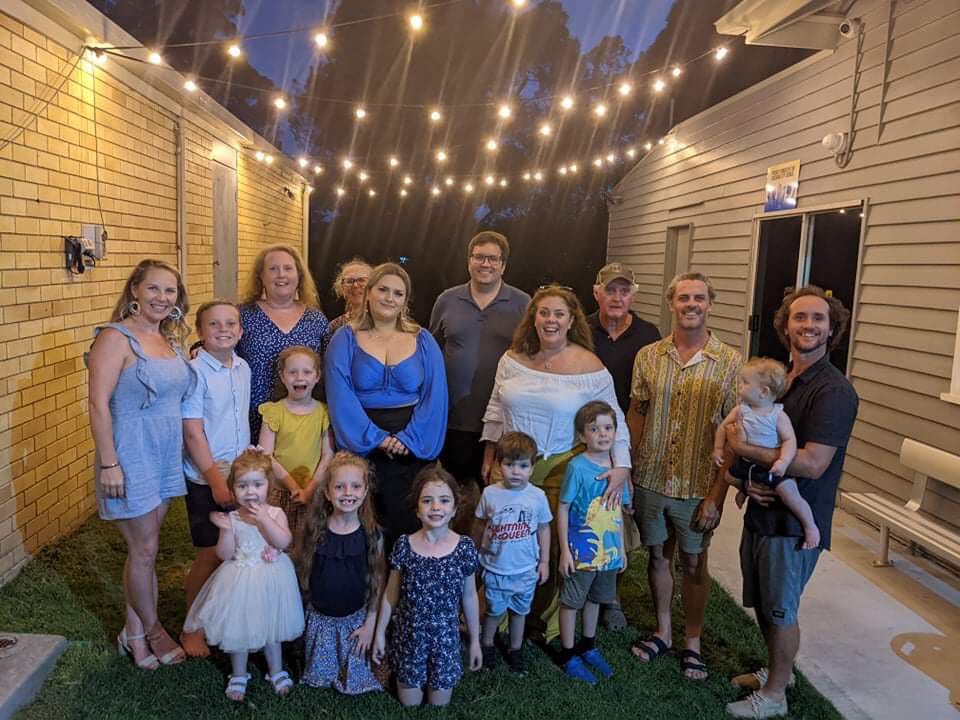 Hutchinson has trained some nice horses since Geehi.
The 2009 Monarchy – Some Direction (Sundon) gelding, Kingdom Come (1:57.2), who won 16 races (seven with Hutchinson), placed 33 times and banked $236,214.
Kingdom Come, who has had 104 of his 183 starts with Hutchinson, provided him with his only Group wins so far – the Group Three Equine Trotting Feature and the Group Three Christmas Trotting Cup, both at The Creek late last year.
Hutchinson was born in Orange (NSW), but a family decision to move to Queensland when Hutchinson was three (1957) virtually saved his life.
"I had bad bronchitis, and my parents made a decision to come up to the warmer climate. I still suffer from it a bit, but it was worse when I was a child.
"Then we settled in Rocklea, and that's really the start of it all. Dad was a real good mate of Merv Wanless, and his love of the game really took off when we moved to Rocklea.
"We had the Wanless's on one corner and just in behind us was Dudley Lucas, who all worked their horses at the Rocklea Showgrounds." Hutchinson said.
"Dad was actually best mates with Merv's (Wanless) Dad, Ron, before they shifted Coopers Plains. Then I got a little job saddling up and preparing horses to be the clerk of the course at Rocklea. They used to bring the clerks in while we provided the horses.
"They were some of our best years I have many great memories from the 1960s and 1970s. Watching Māori's Idol beat the pacers was one of the greatest races and horses I've ever seen," He added.
Hutchinson admits he was mainly self-taught, but his father and Lyall Dylan helped a lot, and then later Wayne Graham was a big help when he got older.
Asked what his best memory in the sport so far was, Hutchinson replied:
"I hope it's yet to happen, but winning those two Group races with Kingdom Come was pretty special. I suffered from a major fall about seven years ago and my memory has been shot since.
"I couldn't even tell you who my first training success was, but I'll always remember Gee Hi, the horse that set me on my way. The fall caused a lot of vertigo and spewing. I wouldn't wish it on anyone."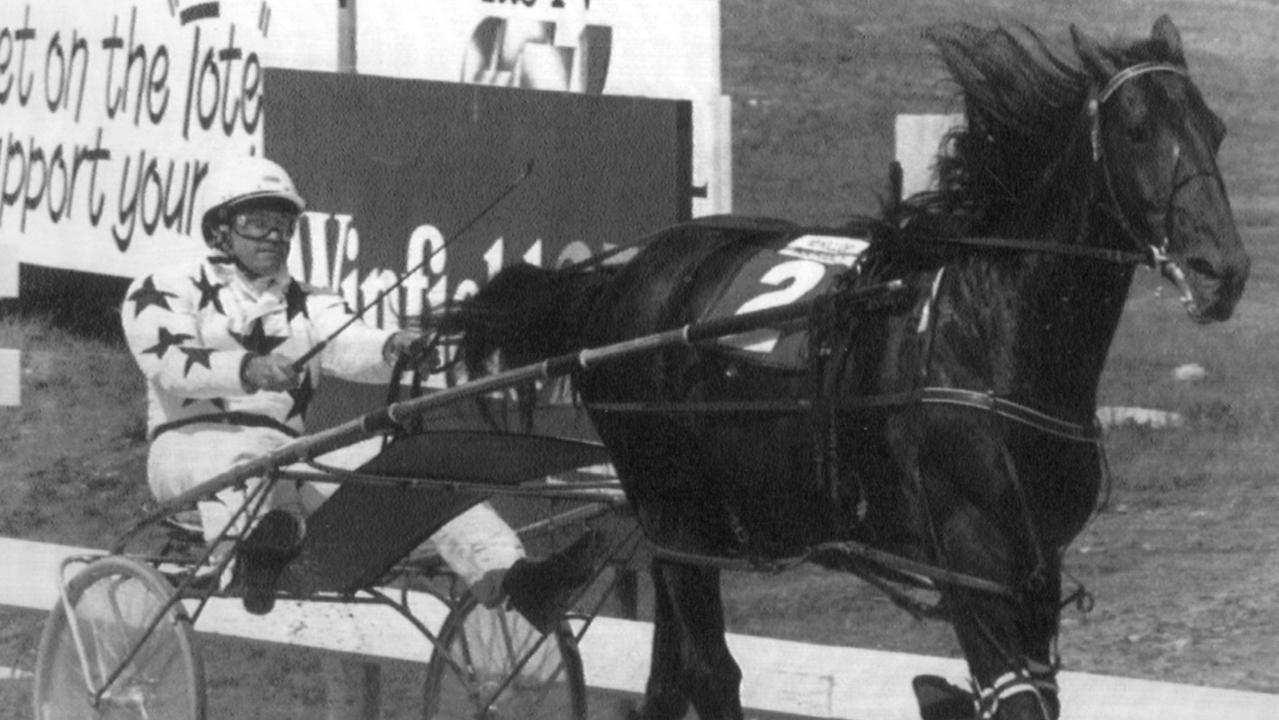 Hutchinson admits harness racing had only ever been a hobby until his elderly father passed away in 2020.
Since then, Hutchinson has produced his six most successful seasons to date, recording 16 wins this season ($144,147), 21 in 2022 ($214,114) 26 in 2021 ($211.838), and a personal best 42 wins in 2019-2020 ($280,192).
"Plumbing has always been my main income, but I was president of Queensland breeders for 10 years, and I actually helped start the Redcliffe Yearling Sales before they went into recess and then the new Salespeople took over.
"I've always loved breeding and still like to breed a few myself. It's something Dad and I have done since the 1980s and the Q-bred scheme today makes it even more worthwhile," Hutchinson said.
"We have some beautiful mares and like to breed each year for the Sales," he added.
One of his nice mares, the 2003 Bostonian – Maori's Lass (Speed Supreme) seven-win mare, Enjoy A Champers, who is in foal to Majestic Son.
His familiar black with the gold quartered silks have been represented by many good horses over the year. The best (in stakes winning order) have been:
Recipe For Dreaming 16 wins and $144,552; Kingdom Come seven wins and $118.866; Shez Got Bling 17 wins and $107,610; Havana Moon 14 wins and $88,053; Granvil 10 wins and $86,547; Runfortheroses 11 wins and $77,952; Caesars Atom 13 wins and $75,945; Colonel Joy nine wins and $74,050; Polly Joe 15 wins and $59,051; and Heavenly Wisdom six wins and $53,041.
Hutchinson is married to Lorraine, and they have four adult children – Emma, Sarah, Matthew, and Patrick, and 10 grandchildren.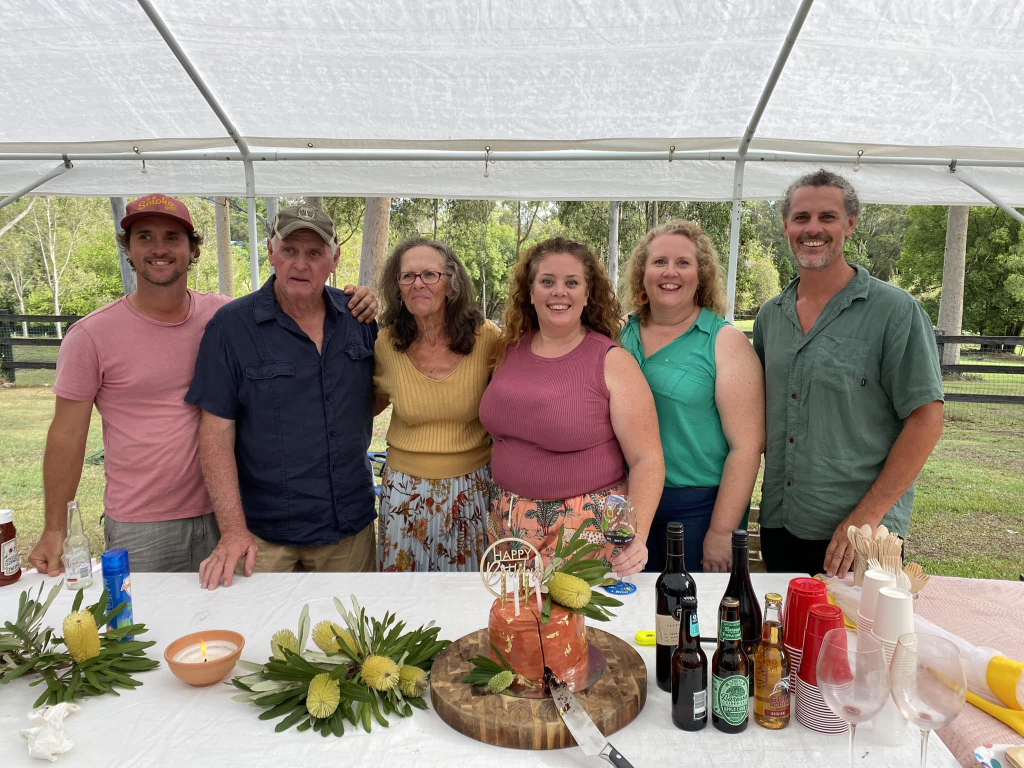 "Matthew used to help me train and we would take seven or eight horses to the Sydney Sales each year, but they all work in other industries now.
"Our stable would never work without Lorraine's input. We are certainly a team, and she is the captain. It was really difficult during Covid when couldn't get any workers and had to work our team by ourselves.
"It's a little easier now that we have got two French work students helping us out. We haven't had a day off in five years.
"But that's harness racing isn't it? You have to put in to get out. At this stage of my life, I've really enjoyed working fulltime with the horses and let the plumbing take a back seat," he said.
Hutchinson's next starter will be Everysecondcounts in race one at The Creek on Tuesday (August 22). The 6-year-old Trixton mare, who will be driven by Adam Sanderson, has drawn seven of 10 at 12.27pm. He has five horses all up starting in the city that day.
For the record:
Hutchinson is a quality rugby player having played the game in the powerhouse city of New Zealand rugby – Christchurch.
"I actually travelled over on a tour one year, and not decided to stay on and played Under-21 rugby for the Christchurch Club. That was 1974 and I was just 19.
"I went over there as a centre and came home as a number eight," he said.